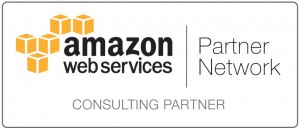 We put in the work, and it paid off! TekLinks was recognized this month by Amazon Web Services (AWS) as having achieved the status of Standard Consulting Partner within the AWS Partner Network (APN).
"We worked hard to fast track our upgrade in order to better serve our clients and their AWS integration needs. This new partner level will provide more layers of training for our in-house AWS team, as well as provide direct collaboration with AWS for our clients when needed. We will also be able to expand our AWS offerings with the Standard tier," said Sherri Ross, TekLinks AWS Product Owner.
APN Consulting Partners are professional services firms that help customers of all sizes design, architect, build, migrate, and manage their workloads and applications on AWS. As an APN Consulting Partner, TekLinks will have access to a range of resources and training to support our customers deploy, run, and manage applications in the AWS Cloud.
APN Consulting Partners can achieve one of four performance tiers based on training, customer engagements, and overall business investment on AWS. As TekLinks grows its AWS platform, we are eligible to work toward and apply for upgrades based on that growth. Those tiers are Registered, Standard, Advanced, and Premier.
TekLinks currently offers Cloud Storage Extender, powered by AWS, with more services being developed. The Cloud Storage Extender is additional storage in Amazon's cloud for a client's network, providing an affordable and scalable easy-to-use solution without the cost of purchasing more hardware.
---
WHO IS TEKLINKS? A national leader in cloud computing, managed services, engineering services, and value-added resale. We're a team of expert techies and business professionals who are passionate about building valuable relationships and getting things done right. Simply put: We make IT work for business. Learn more at TekLinks.com