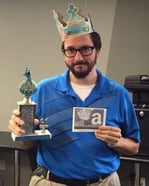 Brett Lass
Engineers Brett Lass and Chris Roberts are TekLinks' Client Care Champs for August 2015.
Lass provides support for our Managed & Cloud Services clients. He scored 99.33 percent on his customer satisfaction surveys in August! Roberts works in the Heath Services Group and has been serving our customers for eight years. He was no slacker in August with 99.44 percent customer satisfaction.
"I guess I'm just a client advocate," Chris said. "I want to make sure they are happy and know the door is always open."
The two were each presented the Crown of Excellence, the Scepter of Victory, an Amazon gift card, and a half day off work for their exceptional service to our clients.
Thanks for all your efforts, guys!
Want to brag on Chris or Brett? Head on over to our Facebook page and brag away!