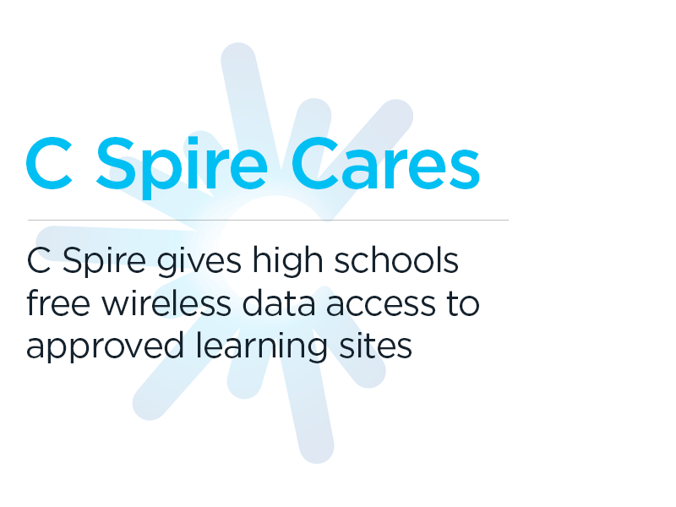 C Spire is working with Mississippi schools to provide free wireless data access to approved learning websites for Mississippi K-12 students through May 31 as they continue their studies from home.
That means students' use of these websites won't count against their data use in their wireless plan.
Not to worry, C Spire Fiber customers—we have no data caps on home internet anyway, so you'll never run out of data. Enjoy these learning sites as much as you want.
In places where no WifI is available, wireless customers whose plan includes a tethering feature can get access to these sites on a tablet or computer without it counting against their data. Customers without tethering can switch to a plan that includes this feature with no fee for plan change.
C Spire worked with sources that surveyed most of the state's 151 school districts to identify, develop and test the approved learning sites for mobile broadband internet accessibility. The list features some of the most popular and widely available K-12 online learning sites in public education circles.
Approved learning sites:
www.edulastic.com
www.mathjax.org
www.edgefonts.com
www.edgefonts.net
edulastic.elasticbeanstalk.com
www.edgenuity.com
www.speechstream.net
www.sophia.org
www.pglms.com
desmos.com/calculator
www.learnosity.com
www.explorelearning.com
el-gizmos.s3.amazonaws.com
www.instructure.com
www.login.i-ready.com
www.clever.com
www.edmentum.com
www.usatestprep.com
www.mobymax.com
www.readingplus.com
www.prodigygame.com
www.nearpod.com
www.k12els.com
www.ixl.com
www.everfi.com
www.squigglepark.com
www.readingeggs.com
www.thinkcentral.com
www.hmhco.com
www.algebranation.com
www.istation.com
www.activeschool.net
www.discoveryeducation.com
www.chesskids.com
www.khanacademy.org
www.legendsoflearning.com
www.scholastic.com
www.studyisland.com
Davidsoninstitute.org
lexialearning.com
Achievement.org
www.edcite.com
www.freckle.com
www.acceleratelearning.com
www.mathjax.org
www.mheducation.com
www.pearson.com
www.seesaw.me
www.schoology.com
www.k12.com
www.code.org
For more information about C Spire's response to the COVID-19 public health emergency and free wireless data for students, visit www.cspire.com/news and click on the C Spire Cares update.