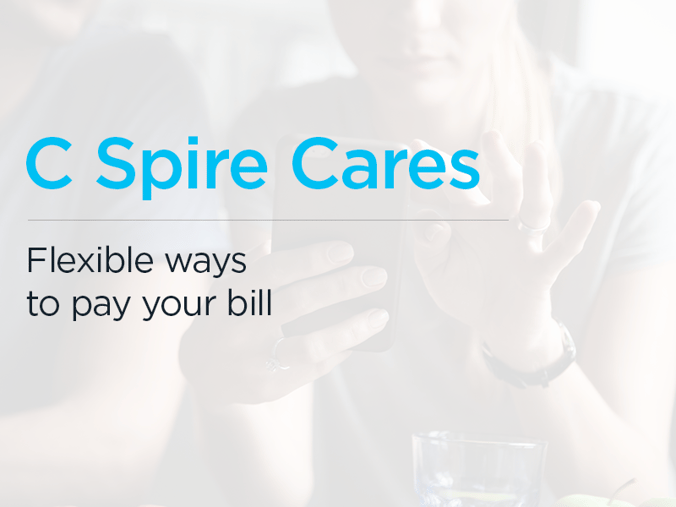 While we're all practicing social distancing to stem the spread of COVID-19, we want to let you know about the many safe, easy ways to stay current with your C Spire payments.
On March 17, we announced changes to our retail store hours, services and locations to help keep our customers and team members safe. In order to limit your potential for exposure to COVID-19, we are also recommending customers take advantage of our digital and self-serve options.
If making an in-person cash payment is still your preferred method, we have the following options.
Make a cash payment via Western Union (please check availability to ensure your nearest location is available)
Make a cash payment at Checkfree locations, including Walmart, Kroger and other locations that accept utility payments. Locate a payment center near you. Remember to have your account number ready when making a cash payment.
Pay cash at select C Spire stores:
Batesville
Bay St. Louis
Brandon
Biloxi
Booneville
Brookhaven
Byram
Carthage
Clarksdale
Cleveland
Clinton
Collins
Columbia
Columbus
Corinth
D'Iberville
Flora
Flowood (Lakeland Commons)
Foley, AL
Greenwood
Greenville
Grenada
Gulfport
Hattiesburg (Hwy. 49)
Hattiesburg (Hwy. 98)
Hattiesburg (Turtle Creek)
Hazlehurst
Houston
Indianola
Jackson (Deville)
Jackson (South)
Kosciusko
Laurel
Louisville
Lucedale
Madison
Magee
Memphis, TN
Meridian
McComb
Mobile, AL (West)
Natchez
New Albany
New Hebron
Ocean Springs
Pascagoula
Pearl
Philadelphia (open Monday-Friday only)
Picayune
Pontotoc
Quitman
Ripley
Southaven
Starkville
Tillman's Corner, AL
Tupelo
Tupelo (West)
Vicksburg
Waynesboro
West Point
Wiggins
Yazoo City
See how else we are responding to COVID-19 to ensure safety and connectivity for our customers and communities.