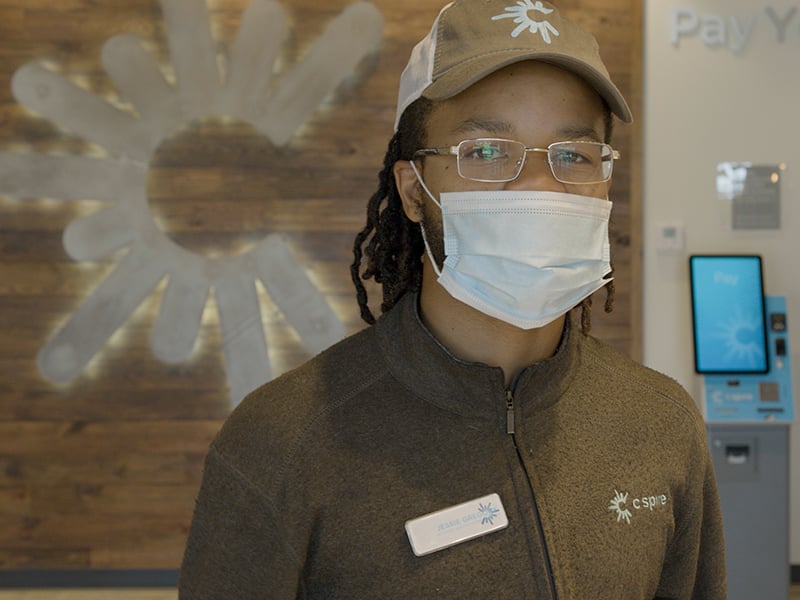 At C Spire, we build our wireless and fiber networks, data centers and essential services for the ultimate reliability, even in the most challenging situations. Our team has stepped up with even more customer-inspired ways to serve your unique needs during the COVID-19 outbreak. We're focused on you, now more than ever.
More high-speed data at no extra charge
We've waived overage fees as part of our efforts to help communities stay connected during the coronavirus outbreak. Through June 1, even customers who aren't on Unlimited talk plans will receive as many minutes as they need to keep in touch with loved ones and keep up to date on COVID-19. And customers who are on eligible smartphone Unlimited plans are getting an extra 25GB of high-speed data for free (a $50 value), and double the high-speed data up to an additional 25GB on eligible prepaid plans each month.
Our network has you covered—in real time
With schools closed and many people working from home, demand for network services has been heavy. Streaming services like Netflix, Amazon Prime and YouTube have seen a spike in usage. But we've stayed ahead of the curve by increasing direct capacity to those sites by more than 50 percent. We also expanded direct capacity to Facebook by 30 percent so you can stay in touch with friends and family. Our team is committed to providing you with 99.999% uptime and world-class service, 24/7/365.
Serving on the COVID-19 front lines
When the COVID-19 pandemic began, the University of Mississippi Medical Center (UMMC) moved quickly to set up a large outdoor testing facility at the Mississippi State Fairgrounds in Jackson. As a partner with UMMC on the C Spire Health app, our development team stepped up to repurpose the app to handle triage for the main testing facility as well as pop-up testing centers around the state, with a streamlined registration and login process. To date, more than 110,000 patients have received evaluations through the app. Our network team also stood up a mobile network for UMMC at the fairgrounds so they could access their servers and operate in full.
Providing Pop-Up WiFi for students across the state
The COVID-19 crisis has brought Mississippi's broadband challenges to the forefront. With public WiFi locations like libraries closed under social distancing policies, we took our fiber signal and broadcast it to 27 local areas to provide complimentary high-speed WiFi for students working on school assignments. To date, students have downloaded more than 2.556 TB of data and uploaded 1.099 TB across all sites.
Curbside service and same-day delivery
We've also made changes to our retail store operations to help keep you safe, based on guidelines from the Centers for Disease Control and Prevention. We're offering curbside service at all currently open locations, as well as free same-day delivery in locations including Bay St. Louis, Brookhaven, Clinton, Columbia, Columbus, D'Iberville, Flowood, Gulfport, Hattiesburg, Jackson, Laurel, Lucedale, Madison, Natchez, Ocean Springs, Oxford, Tupelo, Waynesboro and their surrounding communities.
To learn more about our response to COVID-19, please visit our C Spire Cares site.