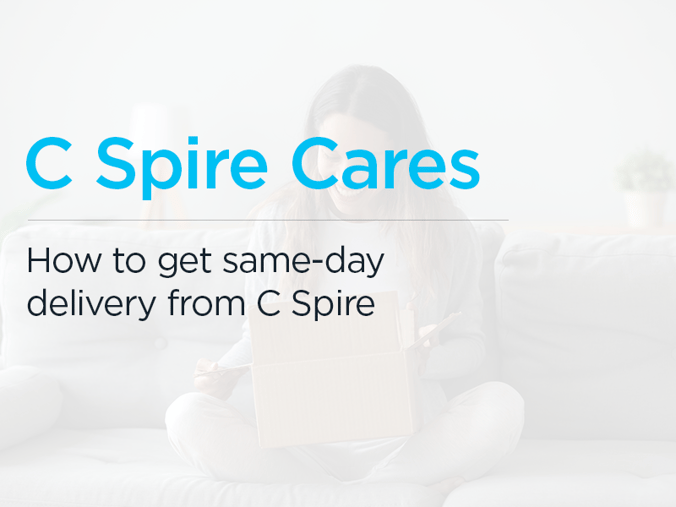 As the situation around COVID-19 changes, we're changing rapidly with it, adapting to serve you in the safest way possible.
That's why we're introducing free same-day delivery in select locations, including Bay St. Louis, Brookhaven, Clinton, Columbia, Columbus, D'Iberville, Flowood, Gulfport, Hattiesburg, Jackson, Laurel, Lucedale, Madison, Natchez, Ocean Springs, Oxford, Tupelo and many of their surrounding communities. (See below for a full list.)
We'll bring new devices and orders totaling $100 or greater right to your door on the same day. Just shop at cspire.com, select "Get It Today" at checkout and follow the instructions for same-day delivery.
We'll check if your address is eligible for same-day delivery and ask if you'd prefer no-contact delivery—verifying your ID and delivering your order while maintaining a maximum, healthy distance. We'll then confirm your order, give an estimated delivery time and help you complete your purchase online. Upon arrival, we'll ask to verify your ID and deliver your order.
CSpire.com is the best way to shop for new devices and accessories. We offer free shipping on online orders with next-day delivery in most cases, and same-day curbside pickup at a wider selection of C Spire stores. Find curbside pickup near you at cspire.com/curbside.
Same-day delivery available in:
Alesville
Bay St. Louis
Bent Oak
Bexley
Biloxi
Boice
Bolton
Brandon
Brookhaven
Bude
Burgess
Byram
Central
Clinton
College Hill
Columbia
Columbus
Denham
D'Iberville
Eatonville
Ellisville
Evanston
Ferriday, LA
Flowood (Lakeland Commons)
Gautier
Gretna
Gulfport
Hattiesburg
Indian Springs
Jackson (Deville)
Laurel
Leeville
Long Beach
Lucedale
Madison
Magnolia
McComb
McCrary
Meadville
Moorville
Moss Point
Natchez
Oak Grove
Ocean Springs
Oxford
Pascagoula
Pass Christian
Pearl
Petal
Plantersville
Purvis
Rawl Springs
Raymond
Richland
Ridgeland
Rock Creek
Roxie
Saltillo
Sandersville
Soso
St. Martin
Summit
Taylor
Taylorsville
Tokio
Tupelo
Tylertown
Vaughan
Wallace
Ward
Waveland
Waverly
Wesson
West King
Whitebury
Winchester
Woodwards
Learn about other ways we're working to keep our communities connected during COVID-19 at cspirecares.com.