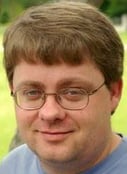 This week's Employee Spotlight is our Tier II Support Manager, Jason Esman. Besides using his WordPress expertise to keep our marketing team from mucking up the website, Jason handles everything from Linux, Windows, DNS, FTP, & SQL to assisting with multiple managed & cloud services each day. Jason joined the TekLinks team after working for VentureNet LLC. An admitted "bad boy" in his youth, he finally settled down and started a family with his wife Monica. They now have three daughters – Stephanie (23), Isabella (15), and Kaitlyn (15) – and four dogs, three of which are rescue pets. When he's not rescuing non–technical people from digital blunders, he enjoys shooting at the gun range, landscaping his yard, spending time with his family, and amateur radio.
Hometown: Odessa, TX
Favorite Superhero or Villain: X-men's Juggernaut
Favorite Movie: The Godfather
One Person in History You'd Like to Meet: Billy the Kid
Last Meal Request (if you found yourself on death row): A huge burger and a grilled hotdog, Monica's potato salad, a couple of deviled eggs, a coconut rum & Diet Mtn. Dew, and a cake (with a gun baked inside).