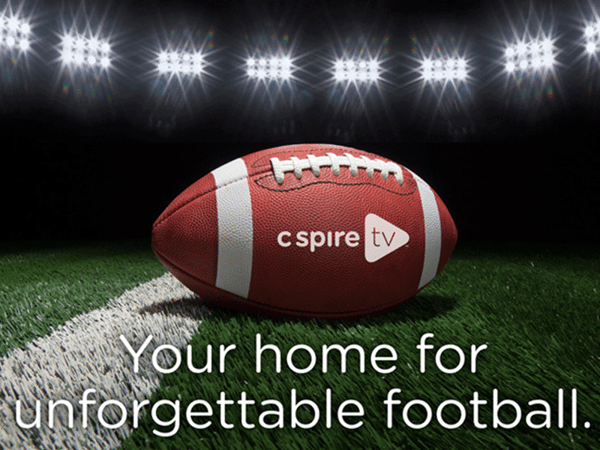 The college football post-season is here. This weekend, America's top NCAA football programs will battle for the top spot in all Power 5 conferences. Here's where to watch the ACC, Big Ten, Big 12, Pac-12 and SEC championships on C Spire TV.
SEC Championship: No. 4 Georgia vs. No. 2 LSU
3 p.m. CT Saturday, CBS
The last time Georgia and LSU met in the SEC Championship, the LSU Tigers walked away with a 42-10 victory. That year—2011—was also the last time LSU played for the conference trophy. The Georgia Bulldogs, meanwhile, won the crown in 2017 over Auburn and lost it to Alabama last year. With both teams playing to represent the SEC in the College Football Playoffs, the action will be heated at Mercedes-Benz Stadium in Atlanta. C Spire TV viewers can check local listings for their channel.
ACC Championship: No. 23 Virginia vs. No. 3 Clemson
6:30 p.m. CT Saturday, ABC
Defending national champions the Clemson Tigers have swapped the national title back and forth with Alabama in recent years, winning it in 2018 and 2016 while the Crimson Tide won in 2015 and 2017. This Saturday they're looking to knock off the Virginia Cavaliers in the ACC Championship before prepping another playoff run, while Alabama sits at No. 5 hoping for an upset in the top four teams. C Spire TV viewers can check local listings for their channel.
Other major conference title games:
Pac-12 Championship: No. 5 Utah vs. No. 13 Oregon, Friday at 7 p.m. on ABC
Big 12 Championship: No. 7 Baylor vs. No. 6 Oklahoma, Saturday at 11 a.m. on ABC
Big Ten Championship: No. 1 Ohio State vs. No. 8 Wisconsin, Saturday at 7 p.m. CT on FOX
NFL: San Francisco 49ers at New Orleans Saints
12 p.m. CT Sunday, FOX
The San Francisco 49ers will face the New Orleans Saints in the Crescent City with both teams at 10-2 on the season so far. The Niners will have to contain Alvin Kamara in order to neutralize the Saints' ground game—but then they'll have to try to shake veteran QB Drew Brees, who has a nearly 74 percent pass completion rate this season. The Saints are slightly favored at home. C Spire TV viewers can check local listings for their channel.