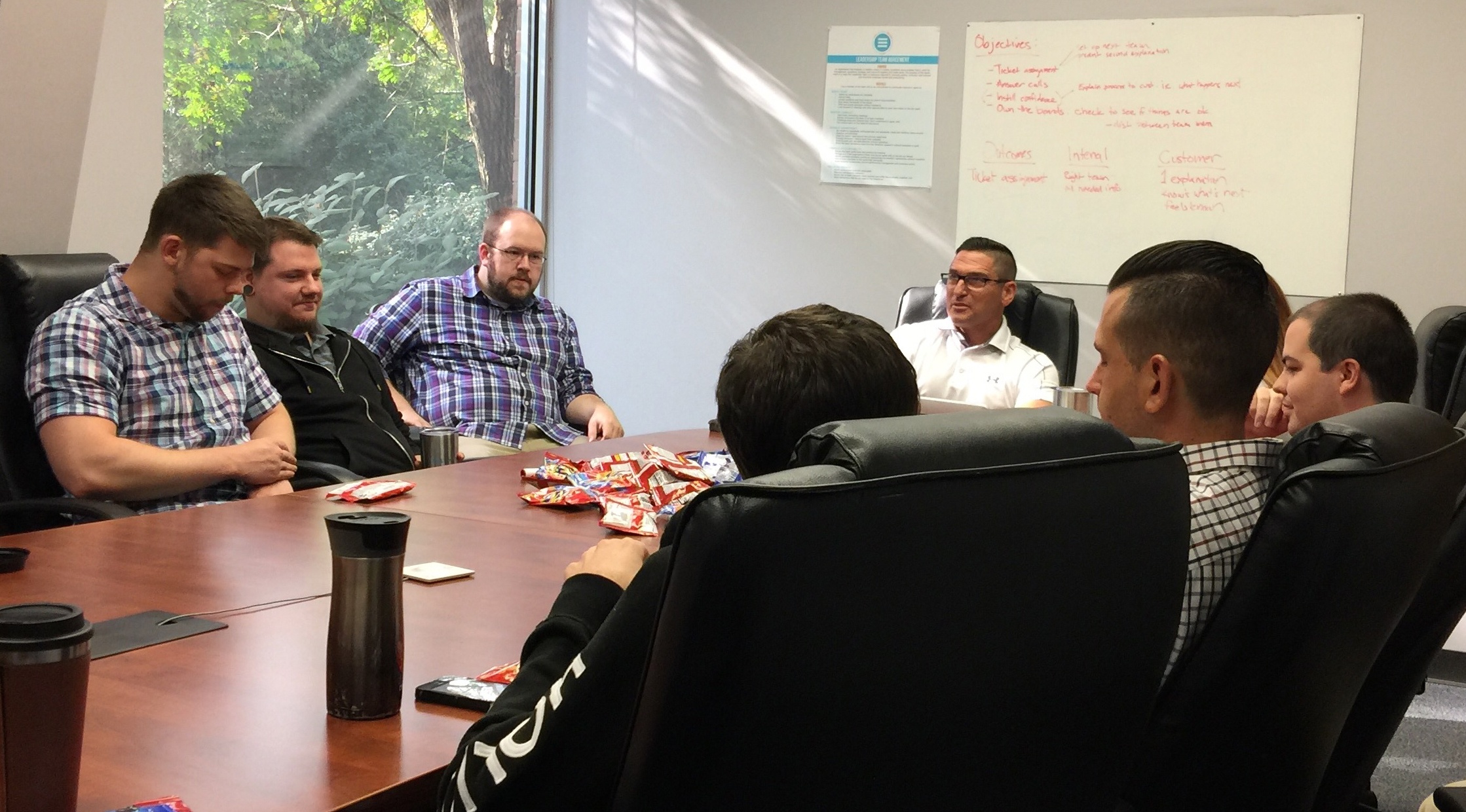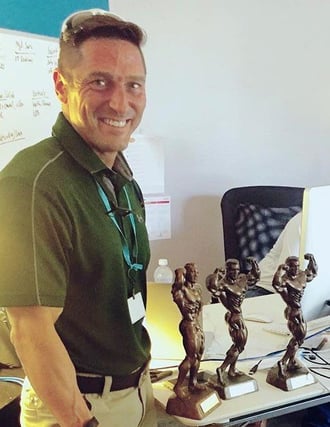 "If it's worth doing, it's worth doing well – and with enthusiasm!" exclaims TekLinks' new President Don Monistere, who is also a competitive bodybuilder, triathlon competitor, martial arts expert, writer, book author, husband, and father. (Phew! We're exhausted just writing the list.)
Don has worked with TekLinks for much of his IT career, moving up the ranks to recently being named President. The Louisiana native is known around the office for his fury of energy, humor, and spirited interactions, inspiring a Fat Tuesday door decoration (see photo) and bringing fear to the hearts of fellow executives with his warrior-like moves (see photo).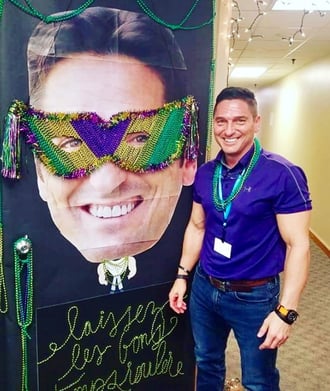 We sat down with Don recently to learn more about what makes him tick, and what he has planned for TekLinks. So grab a cup of coffee, pull up a chair and join us for a motivating get-to-know-you Q&A with our company president:
Let's start with getting to know you personally. What is your life like outside of the office? I work a lot because I enjoy it, but I also love to compete at … well … anything. OK, truthfully, I LOVE to win! Many of my weekends consist of either Olympic weightlifting, bodybuilding, cycling, a triathlon, martial arts, or baseball. If it's a suffer fest or a way to test my discipline and resolve, I am up for it! I'm also very dedicated to my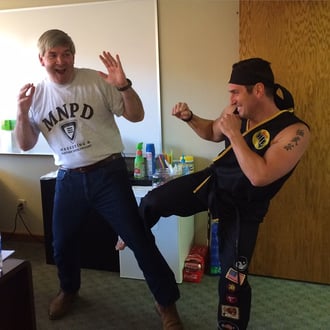 wife Daphne – who is so amazing – and my four kids: Cari, 31; Candace, 22; Cooper, 19; Cameron, 17. I once told a friend that my wife is so beautiful that I sometimes pinch myself to make sure she's not a dream. He said, "You should. She's hot." So I punched him! OK, I didn't punch him, but I have my eye on him.
What drives you to pursue so many goals? I want to suck every inch out of life! Some folks suggest that I need to slow down and take a break. But I am much more comfortable testing my resolve, driving results, and finding places where I can coach, teach, lead, and help others. My fulfillment resides in the area of discomfort where few people dare not go. Learning how to be comfortable while you are uncomfortable is a rare talent and very difficult to master, but I strive to accomplish this daily. I do rest from time to time, but rest feels lazy to me. When they finally put me in the ground, and I get to rest eternally, I want to be really tired!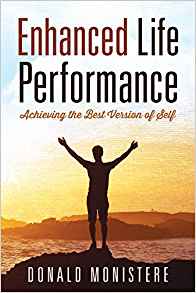 How do you manage the stress that comes with being driven? I try to prepare just as an elite athlete might prepare for their sport. The way I look at it, I wasn't big enough, fast enough or strong enough to turn pro in football or baseball, so I turned pro in working at TekLinks. I train, practice, and work like I am preparing for the Super Bowl or the World Series. Learn more about this concept in some of my favorite books "The Power of Full Engagement," "The Corporate Athlete," and "Peak Performance." You can also read about my approach to life in my own book "Enhanced Life Performance" published by Outskirts Press. I get it wrong sometimes by focusing too much on the outcome, but life is truly about the days leading up to the competition, not just the competition itself.
What has your career in IT and at TekLinks looked like? I have been in IT for nearly 30 years. I started an IT company in 1993 when I was 24. It went through many changes over the years but eventually Vista Information Systems became one of TekLinks' first major acquisitions, and I joined TekLinks as the VP of Commercial Sales. My team did a great job when Managed & Cloud Services (M&CS) was an entirely new concept. We weren't just selling services, we were changing an industry. Later I moved into operations as EVP of M&CS to help stabilize the hosted platform with the help of some really talented engineers. We also instituted the ITIL framework into our service delivery model. After the acquisition of Knoxville's MSP Claris Networks in 2015, I became Chief Operations Officer and a member of TekLinks' Executive Leadership Team. I'm thankful for the confidence that CEO Jim Akerhielm and other members of the Leadership Team have shown in me.
As president, what does your new role within TekLinks look like?
My responsibility is to serve our clients, partners and our most valuable asset – the TekLinks team. I like to get close to the client and not just get "into the weeds" but also get a handful of dirt, too! The closer I am to the end user, the more informed my decision-making becomes. This mentality allows our engineers and our customers easy access to the Leadership Team. Working more closely with directors, managers, and our field resources who see clients regularly has made us a better organization. Our core purpose of "Delight the Customer, Love our Team, and Serve the Community" sums it up best. A large part of my responsibility is to help foster that emotional response throughout our organization.
What project are you currently working on? A lot of my time recently has focused on our new Cybersecurity Consulting Group. Tying those professional services in with our managed security services is crucial to the success of our near and long-term plans. Our security offerings have expanded to include penetration testing, social engineering education, awareness training as well as compliance and risk assessments. We are also improving upon our already robust Threat detection managed services. Our future in Security is very exciting!
What's on the horizon for TekLinks and the IT industry as a whole? Public Cloud is huge! Our ability to allow customers to privately connect to the public cloud through our data center is a game changer. Our partnerships with IT giants like Amazon Web Services and Microsoft Azure set us apart -- other IT providers just can't compete. And our foothold in the healthcare industry has never been stronger. We were named the No. 1 healthcare MSP in the world – are you kidding me!? That's TekLinks No. freaking 1, baby! But can we still get better? Yes, that's what our amazing team is working toward every day. I'm glad I get to help lead them on this journey!