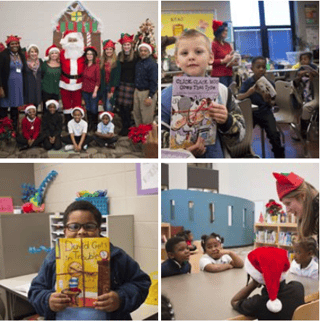 Hundreds of elementary children anxiously squirmed in heir chairs as they waited for Ol' St. Nick to visit their classrooms at Oxmoor Valley Elementary School.
Santa and his TekLinks helpers gifted each of the more than 500 kids at Oxmoor Valley in Birmingham with a book for Christmas, and our hearts collectively melted.
We want to send a giant thank you to our team, whose donations provided the funds to purchase the books. And a special shout-out to Nick Cassidy for donning the red suit!
Check out the full photo gallery on our Facebook page, and be sure to follow us.
Happy holidays from our family to yours!
---
WHO IS TEKLINKS? A national leader in cloud computing, managed services, engineering services, and value-added resale. We're a team of expert techies and business professionals who are passionate about building valuable relationships and getting things done right. Simply put: We make IT work for business.