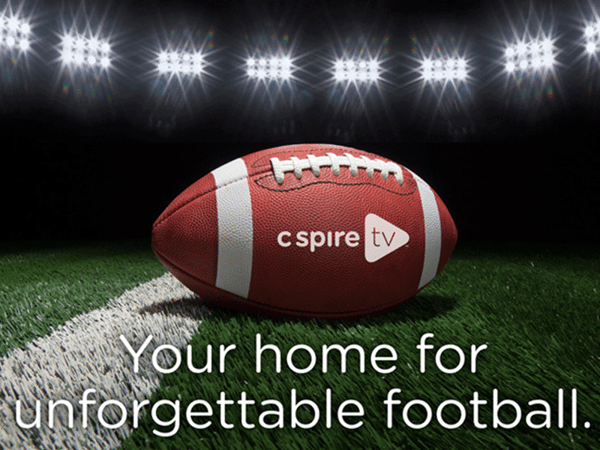 College football conference championship weekend answered a lot of questions about the College Football Playoffs. LSU took the top spot away from Ohio State after routing Georgia 37-10 in the SEC Championship. Georgia slipped to No. 5, while Oklahoma took their spot at No. 4. The Buckeyes fell to No. 2 and the Clemson Tigers maintained at No. 3.
In the meantime, there is plenty of heat coming this weekend in NFL play, including a wounded New Orleans Saints looking to come back after a heartbreaking loss to the 49ers last week. Here's where to watch on C Spire TV.
NFL: Los Angeles Rams vs. Dallas Cowboys
3:25 p.m. CT Sunday on FOX
Heading into their matchup this Sunday, things couldn't be more different for the Dallas Cowboys and Los Angeles Rams. The Cowboys dropped their third game in a row to the Chicago Bears last week, 31-24, despite a late-game rally that ended with a failed onside-kick attempt with 7 seconds on the clock.
Meanwhile, the Rams have won the last two and will travel to Dallas with an 8-5 record. The Cowboys (6-7) need a win to preserve their standing at the top of the NFC East division. C Spire TV viewers can check local listings for their channel.
NFL: Indianapolis Colts vs. New Orleans Saints
7:15 p.m. CT Monday on ESPN
The New Orleans Saints fell short last week against the San Francisco 49ers in one of the most exciting games of the season. Drew Brees connected with Tre'Quan Smith for a TD to take a one-point lead with 53 seconds on the clock, then went incomplete on a two-point conversion attempt.
The Saints defense contained the 49ers until fourth down, when QB Jimmy Garoppolo completed a short pass to George Kittle. A missed tackle right at the sticks opened the lane for Kittle to tack 30-plus yards onto the pass, putting them in field goal range for a 48-46 final score.
The Saints (10-3) will look for redemption this week against the Indianapolis Colts (6-7) at home. C Spire TV viewers can watch on channel 200.