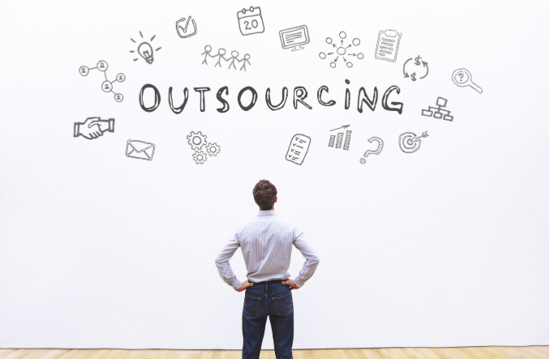 Late one afternoon, I received a call from a VP of IT letting me know that three out of five employees had turned in their two-week notices, all within a few days of each another. This IT leader, immediately thrust into a challenging situation, was looking to me for help.
At the time, I was a recruiter with more than 10 years of staffing experience. From a recruiter's perspective, a phone call like this spells o-p-p-o-r-t-u-n-i-t-y. The knee-jerk reaction is to begin gathering details for a job order (or in this case, three orders). However, I knew the company experienced regular IT turnover and was having a difficult time retaining talent. I genuinely did not believe that employing a full-time employee was the best solution for this client. So, I paused and asked the VP if he had ever considered outsourcing IT
While it took numerous phone calls and meetings to fully help this VP see the benefits, the company transitioned from a recruiting mindset to an outsourced IT solution that fully met their needs. The company now benefits by no longer dealing with turnover, lack of expert knowledge in all technical areas, and much more.
Benefits of Outsourcing IT
As a former recruiter, I have had the privilege of placing hundreds of people in IT positions. A large portion of those placements were for short-term engagements, while some were for longer term, full-time roles. In the Nashville area, where I live and work, there's a shortage of IT talent, which means companies compete aggressively for skilled workers. Once they employ an individual, companies must work hard to retain that talent. All of these factors make an outsourced IT solution very attractive.
From my perspective, there are four compelling reasons companies should consider outsourcing IT:
Continuity
Every time someone resigns from an IT position, a disruption takes place. Small- to mid-sized businesses often feel this disruption the most, as the loss of an employee means a loss in productivity, and many times, a significant skill and knowledge gap.
Companies hire IT staff so technology can support the core of their business. When a key IT employee leaves a company unexpectedly, it not only affects the IT department but also the entire bottom-line of the company. Though a two-week notice is standard in the industry, it is nearly impossible to transfer the knowledge in such a short amount of time. An outsourced solution provides a business not simply with key individuals but an entire team of experts that is dedicated to managing their IT needs. Every company would do well to consider the effects of unexpected turnover, especially this job market.
Saves on Recruiting Fees
Recruiting companies thrive on the turnover that takes place within their key clients. Every time a person resigns a position, a new job order is created. Each new job order (or open requisition) is an opportunity for additional revenue for the recruiting firm. In my experience, the typical fee for a direct placement (or full-time employee), is 20% of the new hire's first year salary. So, if an IT director making between $90,000 - $110,000 annually must be replaced, the company is not only looking at lost productivity and down-time within the IT department but also a recruiting fee between $18,000 - $22,000.
I regularly hear of local companies who have gone through 3 to 4 IT directors in an 18- to 24-month period. In a competitive market, skilled IT workers are pursued relentlessly through LinkedIn and other networks. When offers of increased salaries or shorter commutes are too good to refuse, employees are willing to jump ship. On the other hand, companies who set aside the fees expected for back-filling positions and apply those funds toward an outsourced solution, become more stable and scalable in terms of IT.
Focus
Unless your company is a technology company at its core, your main goal is simply to make IT work -- to serve and support your core business. The challenge is that we all live and work in an increasingly digital environment. If you relegate IT to a reactive role of simply keeping the lights on, you will miss opportunities for growth, quickly fall behind the competition, and chance becoming irrelevant in the marketplace.
With an outsourced IT solution, you can partner with a trusted team of experts who will make IT work for your business. This company is dedicated to your success. You'll no longer need to worry about IT problems, the resignation of key IT staff, turnover within your IT department, or contending with the fear of becoming irrelevant in technology because you have an entire team of experts dedicated to you thriving and staying current.
Removing Fear and Uncertainty
Business leaders don't build companies just to get bogged down with managing all the disruptions that come in IT. Businesses need to grow and to serve clients successfully. Unless you have the time and inclination to study all the latest trends in technology (including Cybersecurity, Cloud Solutions, Data Protection, Network & Connectivity), or you hire someone within your organization to take this role, and he or she commits to never leaving, you would be wise to consider an outsourced IT solution.
Craig Cooper was a staffing recruiter for more than 10 years. He recently joined C Spire Business as a Senior Technology Solutions Manager in the Nashville area and can be reached at ask@cspire.com