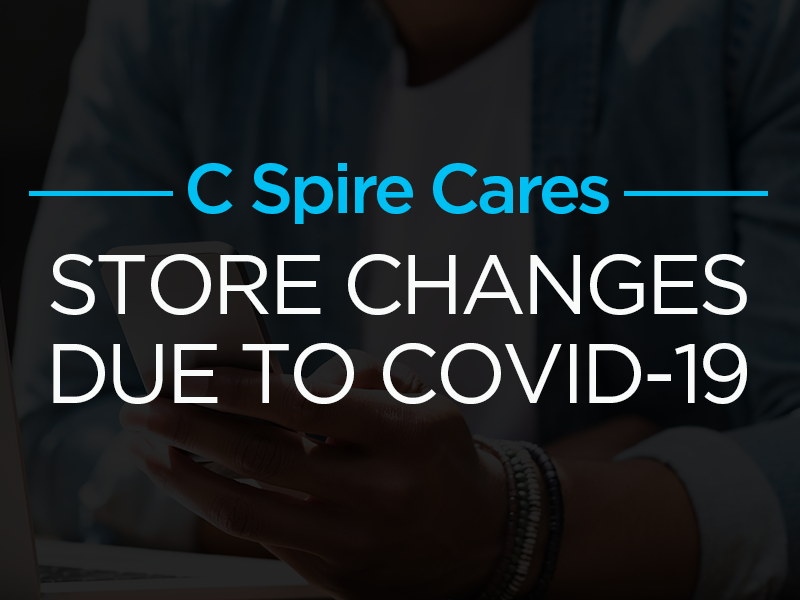 At C Spire, our focus is always on keeping you connected to the services you need, and the health and safety of our customers, communities and Team Members are just as imperative.
While there haven't been any cases of coronavirus (COVID-19) related to C Spire, we're making changes to our retail store availability and operations to help keep you safe, based on guidance from the Centers for Disease Control and Prevention.
A select number of stores will remain open weekly from Monday-Saturday, with updated hours from 10 a.m. to 6 p.m. At these locations, we will facilitate orders via curbside pickup only. We are limiting transactions to non-cash only, except for customers who are making bill payments through the kiosk.
Same-day delivery
To help our customers quickly and safely get the services they need, we're also introducing free same-day delivery at select locations and many of their surrounding communities. We can bring new devices and orders totaling $100 or greater right to your door the same day. To use this option, shop at cspire.com, select "Get It Today" at checkout and follow the instructions for same-day delivery.
Locations that will remain open with updated hours and curbside pickup and service:
Batesville
Cleveland
Clinton (plus same-day delivery available)
Columbia (plus same-day delivery available)
Columbus
D'Iberville (plus same-day delivery available)
Flowood (Lakeland Drive) (plus same-day delivery available)
Greenville
Greenwood
Grenada
Gulfport (plus same-day delivery available)
Hattiesburg (Hwy. 98) (plus same-day delivery available)
Indianola
Jackson (Deville)
Laurel (plus same-day delivery available)
Lucedale
Madison (plus same-day delivery available)
Magee
Oxford (same-day delivery available)
Pascagoula
Philadelphia
Picayune
Starkville
Waynesboro (plus same-day delivery)
Wiggins
Yazoo
The following locations will be open for kiosk payments only with updated hours:
Bay St. Louis (plus same-day delivery)
Louisville

The following stores will be open for same-day delivery only:
Hattiesburg (Hwy. 49)
Natchez
Ocean Springs
Tupelo
The remaining stores will be closed until further notice:
Brandon
Brookhaven
Byram
Charleston
Clarksdale
Hattiesburg (Turtle Creek)
Meadville
McComb
Mobile (Airport)
Richland
Spanish Fort, AL
Vicksburg
West Point

The following locations will be open with updated operating hours and normal store policies:
(Curbside pickup is not available at these locations)

Bay Springs
Biloxi
Booneville
Carthage
Collins
Corinth
Flora
Foley, AL
Hazlehurst
Houston (Open 9 a.m. to 5:30 p.m.)
Jackson (South)
Kosciusko
Memphis, TN
Meridian
Mobile, AL (West)
New Albany
New Hebron
Pearl
Petal
Pontotoc
Poplarville
Purvis
Quitman
Ripley
Southaven
Tillman's Corner, AL
Tupelo (West)
But retail locations are only one way to take care of your Wireless and Home Internet needs. At cspire.com, you can take care of upgrades, add new lines, get accessories and more. We offer free shipping with next-day delivery in most cases, as well as free activation. Need to speak with a rep? Use our online web chat to connect quickly to our team.
You can also pay your Wireless and Home bills through the My C Spire app and online account management tool, or use Express Pay to make payments without logging in. Plus, we are temporarily waiving fees for setting up a payment extension.
For more information on other measures C Spire is taking to protect customers against COVID-19, please visit C Spire Cares.