Note: Today we are continuing our Magical Mystery Tour through the upper-Midwest, visiting solution/service providers and learning trends within their businesses. TekLinks believes that "a rising tide lifts all ships," so in this video series we are presenting to the IT community key insights from our tour. Enjoy!
The second stop in my Magical Mystery Tour is with OST in Michigan, where I met with my buddy Mike Lomonaco. OS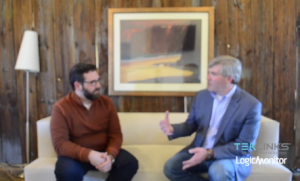 T is a large solution provider that has a traditional VAR practice as well as a growing software development practice.
OST has a really cool office in Grand Rapids. They took over an old building in the warehouse district and fixed it up. It still has all the old charm — hardwood floors, exposed beams — but is trimmed out with all the stuff a growing tech company needs.It has great public spaces, open work environments, and games to facilitate interaction with the various teams.
They have a great culture and really take a lot of pride in that. I met with a lot of different people and had discussions about how TekLinks has grown our recurring revenue practice while still growing our resale business.
Mike runs marketing for OST, so in today's video we talk about how to target the right audience and what they need to hear in effective marketing.
Tell us what you think of the series and ask me your questions on Twitter. Be sure to tag @TekLinks.
---
WHO IS TEKLINKS? A national leader in cloud computing, managed services, engineering services, and value-added resale. We're a team of expert techies and business professionals who are passionate about building valuable relationships and getting things done right. Simply put: We make IT work for business.