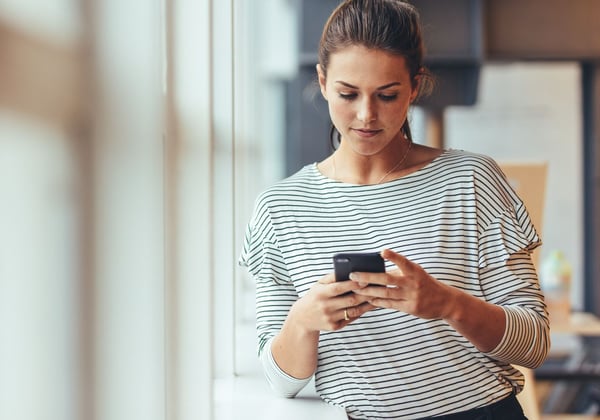 Security threats are everywhere, even in the collaboration technology that businesses are using for hybrid work environments. The right technology will not only reduce the possibility of a costly breach, but it will also help your organization meet industry compliance standards.
Four requirements
When looking for a solution, make sure it was built with security in mind from the start instead of being bolted on later as an afterthought. Collaboration technology with built-in security means you are more likely to get a solution that allows you to secure your applications, devices, and users. From there, you'll want to make sure your solution includes these four important elements:
End-to-end encryption ensures no one can see your data or hear conversations when it leaves point A and arrives at point B. An encrypted solution creates a fully private communication channel. Even your IT teams can't listen to your conversations unless a meeting participant records and shares it. What does this look like in the real world? For financial advisors, it means clients can securely share tax documents, receipts, and records via a collaboration app. For healthcare orgs, it means HIPAA protected info like patient files and treatment plans can be safely shared.
Meets compliance regulations. The solution should ensure it meets your industry compliance standards by vetting the collaboration app against your security and privacy certifications, e.g. HIPAA, GDPR, FERPA, and COPPA. In addition, the solution should meet the regulatory compliance standards of SOC2 Type II, SOC 3, and ISO 9001 certificates, which ensure the solution properly safeguards and manages protected customer data.
Access codes. Remember the days of random people unexpectedly popping into digital meetings? Now the majority of solutions require an authorization pin to access certain spaces and information.
Permission management. You will want the flexibility to manage who can access or view content in certain spaces. For example, the CEO's call history or message notes should not be available to everyone in your organization. Permission management allows you to give authorization to people within your company based on their roles and responsibilities.
Get the eBook
The essential guide for choosing collaboration solutions
The best collaboration solutions are secure, easy to use, and include robust features. But which one is right for your company? This eBook will give you the simple, clear principles and tips you need to make an informed decision.
Product Development Manager John Bergoon has more than 15 years of experience in business IT focusing on voice and collaboration technology. Learn about The future of business collaboration in John's episode of the C Spire Ask the Authority podcast series.