If you interact with technology service providers, you have undoubtedly heard the term Microsoft Cloud Solution Provider (CSP) several times. What you may not know is that there are different types of Microsoft Cloud Solution Providers in the market. In addition to a Microsoft Partner being a CSP, they may also have achieved certain partner statuses indicating the technology stacks in which they are experienced and successful. Let's look at both concepts and what they mean for a company seeking the services of a Microsoft Partner.
Microsoft Cloud Solution Provider
The Microsoft CSP program is a reseller program for Microsoft's cloud portfolio of products. Typically, this includes licensed based cloud applications (such as Office 365 and Dynamics 365) and consumption based public cloud platform usage (Microsoft Azure). However, the program is always expanding and could very likely include lots of other Microsoft offerings in the future. In short, if you are looking to work with a Microsoft Partner for Office 365, Dynamics 365 or Azure; you are looking for a Microsoft Cloud Solution Provider.
I previously mentioned the Microsoft CSP program is divided into two separate tiers. These tiers include a Direct and Indirect model: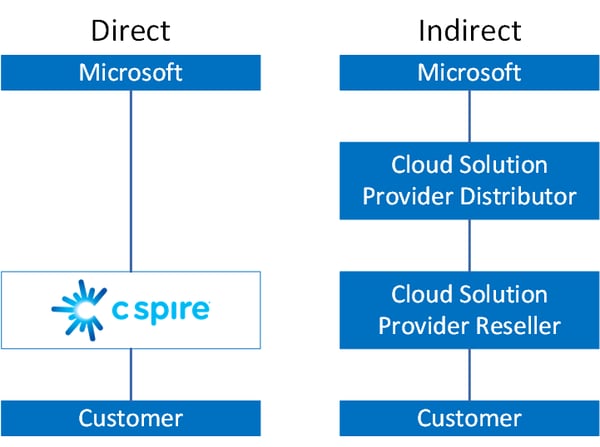 Direct CSP – In the Direct model, a Microsoft Partner has a direct, 1:1 relationship with Microsoft. The partner provides the needed infrastructure and services around accounting, billing, and support of the products available in the CSP program. The partner manages the relationship with the customer and directly interfaces with Microsoft on a routine basis. C Spire operates as a direct Cloud Solution Provider.
Indirect CSP – The indirect model adds another party in between the partner and Microsoft. The partner purchases licenses from a distributor who in turn purchases them from Microsoft. The distributor generally provides services around purchase procurement and billing as well as some support services for the partner. The partner manages the customer relationship, but interfaces with only the distributor and does not have a direct relationship with Microsoft.
Microsoft Partner Gold Cloud Competencies
Partnering with Microsoft to sell cloud solutions is just the beginning of what it means to be a Microsoft Partner. Once you have established a list of providers that can properly license Microsoft cloud solutions, the next question should be "How good are they at delivering and supporting these solutions?" This is where Microsoft Partner competencies come into play. There is a long and storied history of competencies covering all sorts of technologies and markets, but today we are focused on expertise around Microsoft's emerging cloud services. Microsoft awards competencies to partners on Cloud Platform (Azure) and Cloud Productivity (Office 365) once the partner has demonstrated expertise on delivering solutions utilizing these platforms. The requirements consist of several factors; including client consumption of cloud services, types of solutions delivered, and recommendations from a variety of clients. These competencies are awarded in Silver and Gold levels, with the latter being the higher achievement.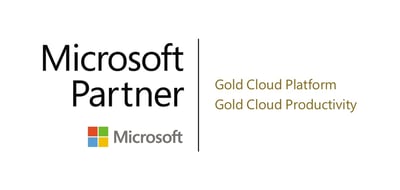 C Spire was awarded the Gold Cloud Productivity competency (Office 365) sometime ago, and more recently awarded the Gold Cloud Platform competency (Azure). We believe these competencies add to our long-standing pedigree of offering secure, scalable, and reliable cloud solutions for our customers. Combined with our direct Cloud Solution Provider status, we are able to ensure customer success in the cloud without adding any unnecessary layers into the mix.
Contact C Spire' Azure Solutions Engineer Jordan Helton.