Our friends at IDShield are warning folks about fraud scams this holiday season. Protect yourself this Christmas by being in the know:
1. "Secret" & Illegal Gifting Scam
The "secret sisters" gift exchange is popping up on social media. Invitees are told to send a $10 gif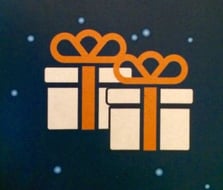 t to the next person on the list and invite 6 friends to join. This is a scam. Participating violates the Postal Lottery Statute.
2. Chip Card Scam
Not all debit & credit card issuers have sent new EMV chip cards to their customers yet. Knowing this, scammers are telling people that they must provide personal data or money to obtain a new card. This is not true.
3. Fake Shipping Notices
Scammers send a fake e-mail that claims a package was sent by you or is to be delivered to you. The purpose: to try to collect personal data or download a virus. Delete it without responding.
4. Fake E-Commerce Websites
Fraudulent websites are common. So, finding a fabulous offer from a website with which you are not familiar could be a red flag. Remember: if it seems too good to be true, it probably is.