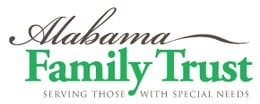 When AL Family Trust realized an office relocation required IT project management that they could not execute on their own, they outsourced their IT administration to TekLinks. The partnership resulted in the successful deployment of several fully managed solutions including email, email archiving, and spam filtering; cloud storage; Desktops-as-a-Service (virtual desktops); endpoint monitoring and maintenance; and 24/7 customer support.
---
AFT's Mission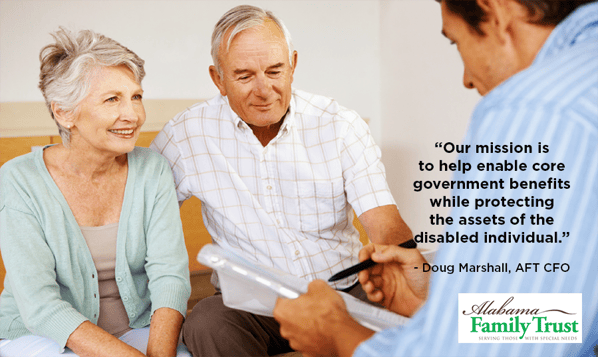 Created in 1994 by the Alabama Legislature, Birmingham-based Alabama Family Trust is a non-profit special needs pooled trust serving children and adults with disabilities who receive government entitlements such as Medicaid and SSI. By establishing and managing trusts to supplement the care, support, and treatment of the beneficiaries, the Alabama Family Trust optimizes the standard of care and quality of life these special needs individuals experience without jeopardizing their current (or future) eligibility for government aid.
"Our mission is to help enable core government benefits while protecting the assets of the disabled individual," explains Chief Financial Officer Doug Marshall. "We work with co-trustees, usually the family members of the beneficiaries, to pay for certain things over and above what Medicaid or SSI will fund for eldercare and special needs. For instance, Medicaid will not pay for a private room in an assisted living facility, perhaps a new wheelchair, or certain medical expenditures. AFT can also pay for things such as the beneficiary's telephone and cable bills. Without the kind of fiduciary oversight we provide for these families, many elderly or special-needs individuals would find themselves unable to pay for necessities that may fall outside the textbook definition of 'core living expenses.' "

No Room for Downtime

With approximately 550 accounts under AFT's management, the organization's staff of four employees has a full workload with zero tolerance for downtime. AFT also has two independent contractors who assist from time to time. In addition to working with the families of beneficiaries to ensure that their loved ones' needs are being met, they must work closely with the Board of Directors (decided on the state level) to authorize all payments on a monthly basis. All financial disbursements must go through this approval process. The team also remains in constant communication with BancorpSouth, who assists in managing their mutual funds and investment strategies that will protect and grow the beneficiaries' investments over time. To keep their investors' confidence and safeguard their beneficiaries' wellbeing, AFT depends heavily upon their email and phone systems, as well as their financial software applications, to be available around the clock.
Additionally, the organization must also adhere to state laws regarding special needs trusts, so data security is of the utmost concern. "While Alabama is unique in that the Legislature created the pooled special needs trust, we must follow both federal and state law to make certain AFT is in compliance with all laws and regulations," states Melanie Bradford, Executive Director of AFT.
Managing Disbursements, Not an I.T. Environment
By 2014, AFT's operational needs had outgrown their office facility. In addition to their brick-and-mortar presence, AFT relied on the lessor for all their IT needs, from data storage and file sharing to their email server and mission-critical applications. As they planned the organization's relocation, Marshall and his team realized that migrating their data and applications to a new environment posed a serious problem. There was simply no one internally to effectively manage such a high-stakes transition.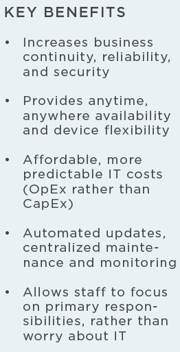 Fortunately, Marshall knew what kind of solution provider he needed. During his 25-year career with Energen Corporation, Marshall served as Controller of Alagasco and chaired the Alagasco Initiative Council and was also a member of the Energen IT Steering Committee. Given his experience overseeing the financial and technological health of enterprise companies, Marshall was familiar with the pains most commonly felt during a forklift migration of data and applications. "I knew enough from my time at Alagasco to know that this is not a simple process," he says. "We knew we needed a technology company we could trust to handle everything, and TekLinks definitely stepped up to the plate."
More Security, Less Anxiety
Marshall met with TekLinks Corporate Account Manager Ed Hyde to discuss the best approach for the impending relocation. Hyde encouraged Marshall to move his data, applications, and email to the cloud in order to better protect their environment within the TekLinks data center. Outsourcing their IT administration to TekLinks Managed Services team would also allow Marshall and his team to focus on serving their life beneficiaries and their families, as well as eliminate the need for costly hardware upgrades. Hyde then recommended that Marshall and his team increase the security around accessing their tax applications and beneficiary data with virtual desktops. TekLinks Citrix-powered Desktops-as-a-Service would allow each team member to access data from any location, regardless of what device they were using. "What really appealed to me about the virtual desktops was that we could work any-where, anytime, yet it still addressed the security aspect. That, and it took the need for up-front CapEx off the table," says Marshall.

Marshall also opted for TekLinks' managed email archival services in addition to PC protection, which includes monitoring and anti-virus services, help desk and onsite support, and automated software updates. Once a time-table for full functionality was established, Sr. Project Manager Robert Banks coordinated the cloud implementation, email migration, and deployment of five virtual desktops with the onsite efforts of Systems Engineer Brett Glover. With the help of the Managed Services engineer team, Banks and Glover tackled the project head-on and completed it within four weeks. Their hard work and commitment to the deadline did not go unnoticed.
"It was very seamless for us," says Marshall. "I don't think the implementation time could have been any shorter, given what needed to be done. At the end of the day, our clients are individuals that we have promised to take care of. Our life beneficiaries and their families were depending on us to be back operationally as soon as possible, and TekLinks helped us do that."
Following a smooth relocation of their office and IT environment, Marshall's team is settling in to a more flexible and efficient workflow. Everyone at AFT can easily access their email, data, and applications from any smartphone, tablet, or laptop without sacrificing security. "Now our VDI solution allows remote access to files securely at any time, with little to no downtime," says Marshall.
Future Growth
"While we serve beneficiaries only in Alabama for now, we could cross over into other states in the near future," says Marshall. "We know we can depend on TekLinks to manage all our IT, which will help us scale more quickly and easily. And having everything running out of the cloud makes productivity on-the-go a reality."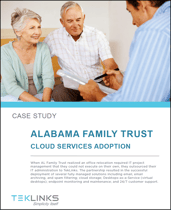 INTERESTED IN MOVING YOUR BUSINESS TO THE CLOUD, BUT UNSURE OF YOUR NEXT STEP?
CONTACT US TODAY AT
877.301.3125
OR
INFO@TEKLINKS.COM
to find out what Managed I.T. Services in the Cloud can do for you
!