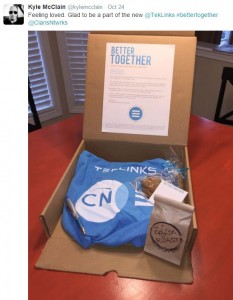 Over the next few days, a final few of TekLinks 300 employees will receive at their homes a gift box from our Leadership Team. What's the gift box about? Knoxville's Technical Account Manager Kyle McClain said it best on Twitter:
"Feeling loved. Glad to be a part of the new @TekLinks. #bettertogether @ClarisNtwrks"
In case you missed it, TekLinks is in the process of combining with Claris Networks, a Cloud Computing and IT Services Company in Tennessee. Along with this transition has come a new culture code that emphasizes "Loving Our Team."
And knowing that our team's love language is caffeine and sweets, CEO Jim Akerhielm and President Larry Bodie sent everyone coffee made in Tennessee and a cookie from Alabama to emphasize that some things are better together, like TekLinks and Claris.
Included in the box is a ginger cookie from Birmingham's Icing on the Cookie, medium hand-roasted coffee from The Golden Roast in Knoxville, a "Better Together" T-shirt and a TekLinks-branded pen and sticky notepad. The package includes a note from Akerhielm and Bodie, thanking everyone for their efforts in making the ongoing transition successful. "Thank you for being part of something bigger, something more than just a job, as we all work together to create a TekLinks that 'Loves Our Team, Delights our Customers, and Serves our Community.' "
To our team, here's your chance to win one of two $100 Amazon gift cards:
Tag TekLinks in a Twitter, Instagram or Facebook picture of you enjoying your coffee and cookie or a pic of you in your new "Better Together" T-shirt with the hashtag #BetterTogether, and we will enter you in a drawing. The two winners will be announced Monday, Nov. 2, on TekLinks' social pages, so be sure to follow or like us if you haven't already.