TekLinks' clients regularly give our support engineers feedback on how well they are serving them through customer satisfaction surveys. And, each month, we tally those survey scores to determine which engineer has the highest scores in our Health Service Group (HSG) support team, and the Managed & Cloud Services (M&CS) team.
---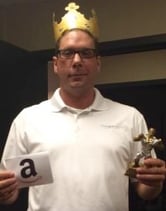 For October, HSG Engineer Drew Majerik wins with a high score of 98.46 on his customer satisfaction surveys. He was presented by management with the Crown of Excellence, the Scepter of Victory, a $25 Amazon gift card, and a half-day off work for all of his excellent service to our clients. Congrats, Drew!
---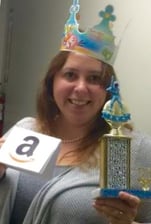 We also owe a shout out to M&CS Engineer Shannon Entrekin for her dedication to our clients. She scored a 96.53 on her customer satisfaction surveys. We bestowed upon her the Crown of Intelligence, the Scepter of Positivity, a $25 Amazon gift card and a free afternoon off to admire the trophy. Thank you, Shannon, for your dedication!