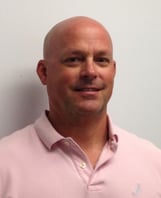 Each quarter the TekLinks Leadership Team recognizes a group of employees who have been nominated by their peers and/or clients for demonstrating the very best in attitude, professionalism, dedication to customer service, self-motivation, and overall awesomeness. We are extremely proud of the kind of talented people we get tot work with each day - and we want everyone to know about their accomplishments!
Today we're featuring another recipient of this quarter's TekExcellence Award: Bill Roberts, HSG Field Services Engineer.
While Bill is known for always going above and beyond for our clients in Dothan, AL, his work ethic and customer focus caught the attentions of Diane Jasperse, Administrator of Eye Center South. When the clinic required a Thursday - Monday setup and implementation for their new satellite office in Destin, FL, Bill stepped up to the challenge, successfully completing the project on time and with a stellar attitude.
That Tuesday, Ms. Jasperse sent us the following review of Bill's service to her and her staff:
"First off, I don't know what we would have done without Bill. He went above and beyond for us, and we truly are grateful. He also calmly showed tolerance with numerous people who were just standing around and making demands of him. I really cannot say enough about the difference he made. He probably put in a good 50 to 55 hours from Thursday through Monday and never complained. He did his best to make everyone happy despite all the unrealistic demands that some of our staff threw at him.
There is a handful of ECS people that I am extremely proud of today, and Bill is right up there with them. Everything IT-related went very well, everything is up and running, and we are seeing patients this afternoon at the new clinic. A+++++ job on Bill's part."
Congratulations on this recognition for such a job well done, Bill!! We are so proud of all your hard work and are honored to have you as a team member!