VoIP is a robust communication tool that gets a bad rap. Why? Primarily because VoIP providers fail to teach businesses how to use it correctly. So let's start with the basics and work our way through a few VoIP myths as well as realistic expectations of your VoIP provider. (Note: They probably aren't high enough.)
What is VoIP?
Voice-over-Internet Protocol (VoIP) is a complete business phone system. It's a communication technology that allows voice calls to be digitized and transmitted over IP networks, such as internet, rather than through regular telephone circuits.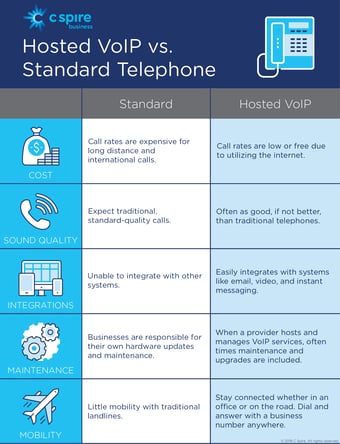 One of the significant advantages of using the connectivity of the web for calls is that they can be transmitted to virtually anywhere there is an internet connection and telephone software or device.
The experience of a VoIP call is so much like that of a regular phone that most people aren't aware they're using an IP network. And the sound quality of a VoIP call is typically much better than traditional phone lines. On the surface, everything functions like a normal phone system, except it all takes place over the internet instead of a traditional landline.
Compare the technology
Traditional phone calls travel through copper lines over the world's collection of interconnected Public Switched Telephone Network (PSTN), both commercial and government-owned. VoIP, on the other hand, routes voice calls over the internet, using IP networks and Local Area Networks (LANs) to make the service possible.
Conventional landlines open circuits from the call's location all the way to its receiver. The complete circuit must remain open for the duration of the call, and the further a call travels, the more circuits have to be opened to maintain the call — that's why long-distance phone calls are so expensive.

In contrast, with a VoIP call, a voice is converted into a data packet, and those data packets are sent to the call's receiver. These packets don't have to travel together and often take a variety of routes to their destination. Their flexibility makes them more efficient than traditional phone calls and thus, less expensive.
Hosted VoIP
Hosted VoIP is fully managed by a provider, meaning the customer does not have to maintain any of the equipment needed to support their VoIP services.
And one of the greatest benefits of hosted VoIP is that it breaks down silos between email, video conferencing, screen and file sharing, phone calls, and instant messaging because it's all integrated into one system. This integration provides businesses of all sizes sophisticated communication capability that is not readily available with traditional phone systems.
Pro tip: Organizations usually save money by switching to hosted VoIP simply because they avoid paying for an internet connection in addition to maintaining a traditional phone system.
GUIDE: 4 Criteria for Choosing a VoIP Provider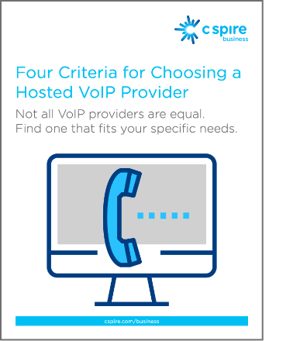 The right provider will customize VoIP to your specific business needs. It will also offer employee training and communication strategies in case of emergencies.
Download this guide to learn:
Common VoIP provider pain points and how they impact your business.

Key questions you should ask when selecting a provider.

How VoIP training and team adoption is critical to success.
READ NEXT: Dealing with awful customer support? Here's how internet and VoIP providers can do better.