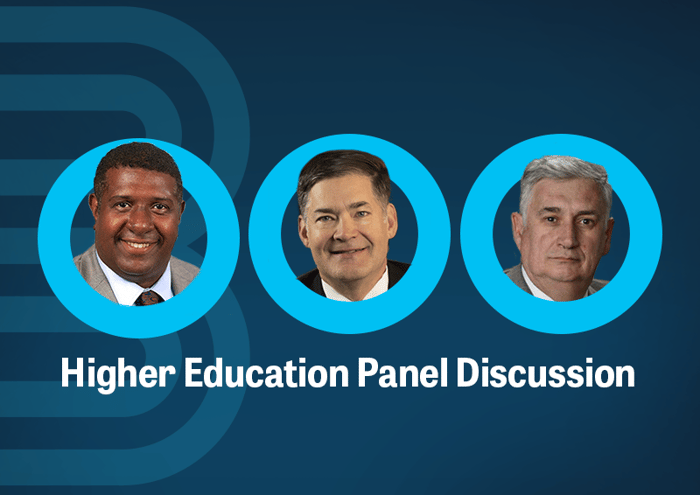 Many universities and colleges quickly adopted a variation of remote learning over the past 18 months. But what did that ambitious technological leap forward look like behind the scenes? Register today to attend the Bytes & Bites higher education IT panel discussion with the CIOs of multiple universities across the south. They will share how the past 18 months have impacted the technologies in their organizations and what they mean for the future.
IT Leadership Panel – Higher Education
10:30AM Central
Oct. 21, 2021
Finley Center in Hoover, Alabama
Bytes & Bites 2021 is the premiere event for IT and business leaders in Birmingham and beyond. At this free Oct. 21 event at the Finley Center, you'll rub shoulders with Birmingham's best and brightest IT professionals, dive into thought-provoking panels, and soak up insights from some of the region's foremost technology leaders. The event will include multiple breakout and panelist sessions, including one focused on higher education at 10:30AM.
Meet the panelists

CIO Dr. Curt Carver
University of Alabama at Birmingham
Dr. Curt Carver, who was named VP for information technology and CIO in June 2015, has challenged his team at UAB to be agents of innovation who help empower the work at UAB through robust infrastructure, enhanced security and world-class customer service and solutions. READ MORE

VP for IT & CIO Vinson Houston
Jacksonville State University
Vinson Houston is the VP of Information Technology and CIO at Jacksonville State University and is responsible for information technology strategy, policies, and services that support the University's strategic plan and mission of teaching and learning. READ MORE

CIO Jim O'Connor
Auburn University
Jim O'Connor oversees the operations of the Office of Information Technology (OIT) and University Information Security Office and provides the vision and leadership in information technology that is necessary to advance the university's mission and strategic plan. READ MORE
Learn more about Bytes & Bites 2021 here and be sure to register early for this free event.