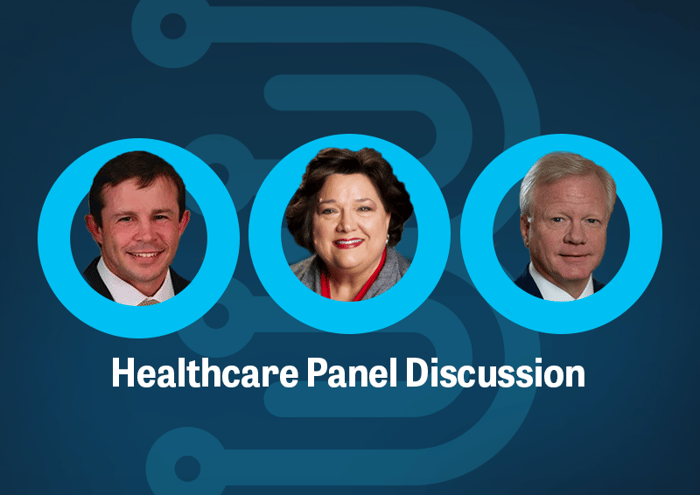 As healthcare organizations have adapted to major changes over the last 18 months, they've had to make strategic IT choices. No one knows that better than the IT leaders on the Bytes & Bites Healthcare Panel Discussion. Join us Oct. 21 at Bytes & Bites to hear healthcare CIOs talk about accessible remote care and how the past 18 months will continue to impact the future.
IT Leadership Panel – Healthcare
11:30AM Central
Oct. 21, 2021
Finley Center in Hoover, Alabama
Bytes & Bites 2021 is the premiere event for IT and business leaders in Birmingham and beyond. At this free Oct. 21 event at the Finley Center, you'll rub shoulders with Birmingham's best and brightest IT professionals, dive into thought-provoking panels, and soak up insights from some of the region's foremost technology leaders. The event will include multiple breakout and panelist sessions, including one focused on healthcare at 11:30AM Central.
Meet the panelists

Rusty Yeager, CIO
Encompass Health
Rusty Yeager has more than 20 years of healthcare information technology experience and over 10 years of increasing responsibilities in information technology leadership at Encompass Health, formerly HealthSouth. READ MORE

Joan Hicks, CIO
UAB Health System
Joan Hicks became the CIO for UAB Health Systems in 2004 and has over 40 years of health care leadership experience in the areas of IT and information management. READ MORE

Charles DeCroes
VP of Technology Support
BC&BS of Alabama
With more than 25 years of IT experience in roles related to both software and hardware, Charles DeCroes serves as Vice President of the Technology Support Division at Blue Cross and Blue Shield of Alabama. READ MORE