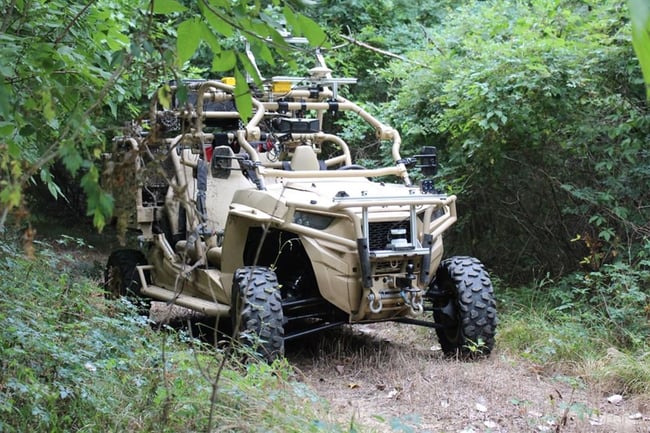 Dr. Chris Goodin didn't know his career path would lead to saving countless military lives, but the off-road autonomous vehicles he's developing for the U.S. Army have the potential to do just that.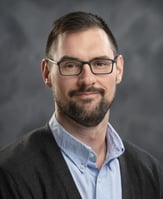 The Mississippi State University scientist's autonomy software could dramatically improve the physical safety of soldiers by enabling self-driving vehicles to manage rugged terrain on assignments too dangerous for humans. Tasks such as scouting missions or supply convoys near enemy territory. Just one fully autonomous military convoy could put 78 fewer troops at risk.
"Rather than driving and maneuvering rough terrain in high-risk environments," said Goodin, "we want to either remove troops altogether or free them to focus on their missions.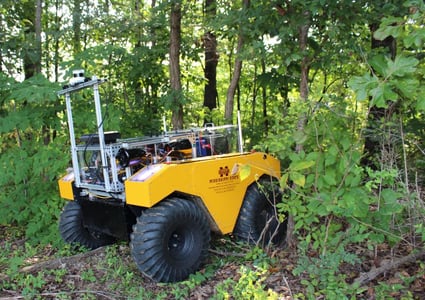 But this wasn't always Goodin's plan. "I had no idea this kind of work even existed," he said. "Now that I've been doing it for 14 years, I wouldn't want to do anything else."
Goodin began working in MSU's Center for Advanced Vehicular Systems (CAVS) in 2017 after spending nearly 10 years researching autonomous technology for the department of defense. CAVS is a world-class research center that addresses engineering challenges facing U.S. mobility industries. The center relies on connectivity from Mississippi Optical Network, a state-funded C Spire fiber internet network that provides colleges and universities across Mississippi the connectivity infrastructure, bandwidth and speed needed to embrace emerging technology like machine learning and artificial intelligence.
The technology
Off-road terrain is often unpredictable, which complicates creating smart autonomy software that can assess and navigate an environment. Ford, GM, Tesla – their self-driving vehicles are made to detect lines on roads. "We have no lines. We often don't even have roads. Our software must be able to assess the terrain — mud, rocks, hills, tall grass, snow — and then successfully maneuver from point A to point B," said Goodin.

The MAVS simulator evaluates a vehicle's
autonomy software in real-time.
CAVS' autonomous vehicles use high-tech sensors to scan and process the terrain on a 55-acre proving ground next to the CAVS headquarters in Starkville, Miss. In order to prove an autonomous vehicle can accomplish a specific scenario, such as avoiding an object while navigating from point A to point B, it must be tested. A lot.
"When we are testing a scenario, it's not uncommon to need over 10,000 tests to determine reliability," said Goodin. Manually performing thousands of tests in a live environment for just one scenario is far too time-consuming, so Goodin and his team developed a simulator that can evaluate the autonomy software in real-time. Mississippi State University Autonomous Vehicle Simulator (MAVS) supports high-performance computing, enabling thousands of concurrent simulated experiments.
C Spire + CAVS
Thanks to C Spire fiber internet, MAVS is able to run smoothly as it generates gigantic amounts of data that Goodin and his team sift through and analyze.
"This technology wouldn't be possible without C Spire fiber," said Goodin, who works remotely from Vicksburg, Miss. "Each of these thousands of tests generate 10 or 15 gigabytes of data. We regularly access and interact with these files without lag or delays thanks to the fiber network."
The greater good
According to Goodin, advancing the field of autonomy should be a community effort, which is why his simulation technology is available free of charge to universities and government agencies. Private businesses can pay a fee for a license.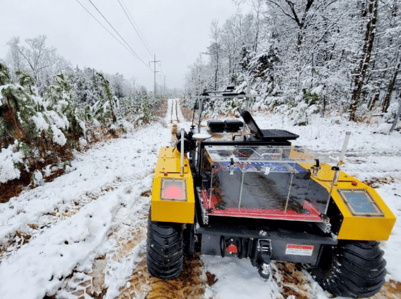 "Simulators like MAVS can really accelerate and democratize the development of off-road autonomy," he said. "It costs tens to hundreds of thousands of dollars to build even a single autonomous off-road vehicle. That cost used to inhibit smaller universities and colleges from contributing to the autonomy field."
Now with MAVS, anyone can develop, test, and demonstrate new ideas without the expense. "The possibilities are endless," said Goodin. "Imagine the agriculture industry with self-driving tractors in rural areas that plant and harvest, or search and rescue teams using autonomous vehicles in the aftermath of an earthquake."
What's next?
Goodin's next goal is to increase his software's level of intelligence by increasing its ability to reason. For example, right now a vehicle evaluates a rugged terrain, recognizes that it can get from point A to point B and then goes. It may ignore the trail 10 feet away that would allow it to avoid driving through something like a rice field.
"We're excited to continue to make it smarter and more intuitive so that it thinks more like humans," said Goodin.
Learn more about MSU's autonomous vehicle research here.



Network management is rarely simple when you need throughput, reliability, visibility, and security. Join C Spire's expert engineers Gary Nalley and Chris Hutchinson for a look at the future of network management.