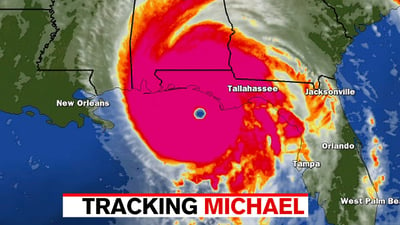 C Spire has bolstered its network resources and mobilized employees in case it needs to respond to Hurricane Michael, which is expected to make landfall along the Florida Panhandle this afternoon as the season's first Category 4 hurricane.

Michael made landfall near Panama City with winds up to 120 mph, storm surge of 9 to 13 feet and rain accumulations of 4 to 8 inches. Mandatory evacuations have been issued and a state of emergency has been declared for 35 Florida coastal counties, four Alabama counties and 92 counties in Georgia in the storm's path.

C Spire readies its extensive wireless and wireline networks and workforce for a wide range of potential disasters, including major weather events such as hurricanes. The company routinely reviews and updates its emergency preparedness plans and conducts drills throughout the year to test the readiness of its network and employees.

"Our preparations are designed to give customers maximum reliability for all of their communications at the time of greatest need," said Clayton Branch, director of network operations for C Spire. "People depend on our network as a lifeline to the outside world during emergencies and we take that responsibility seriously."

September and October are usually the months when most hurricanes form in the Atlantic. Last year was considered an above average season with 17 named storms and 10 hurricanes, six of which were considered major, including the first two major hurricanes (Harvey and Irma) to hit the continental U.S. in 12 years.

Read the full media release here.