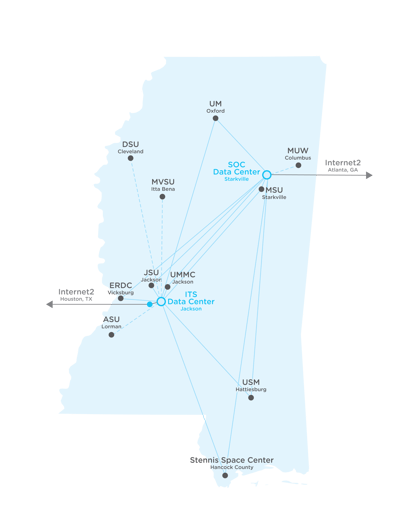 C Spire recently completed a major technology upgrade of Mississippi Optical Network (MissiON) – the state's science and technology research and development consortium of nine state universities, NASA's Stennis Space Center, U. S. Army Corps of Engineers ERDC, and more. The upgrade tripled capacity, cut overall costs, and expanded the size of the network.

The MissiON network was designed in 2011 to support direct collaboration among the state's research universities and regional institutions. MissiON is now in partnership with C Spire and leveraging our 8,600 route miles of high-capacity fiber optic.

Today's comprehensive upgrade boosted bandwidth speeds up to 10 times faster for consortium partners, lowered overall latency, added a new interconnection with Internet2, built new route diversity and redundancy to ensure optimal MissiON network up-time and eliminated a single point of failure from the previous network.

Consortium partners include Ole Miss, the University of Mississippi Medical Center, Mississippi State, Jackson State, the University of Southern Mississippi, Stennis Space Center, the U.S. Army Engineering Research and Development Center and the national Internet 2 consortium. Four regional universities – Delta State, Alcorn State, Mississippi University for Women, and Mississippi Valley State – are being added to the MissiON network under a new state telecommunications contract awarded to C Spire earlier this year by the Mississippi Department of Information Technology Services (ITS).

"We've boosted aggregate total bandwidth by more than 380 percent while reducing the overall cost by over 50 percent annually," said C Spire CEO Hu Meena. "This is a world-class network that fully supports MissiON's important research objectives now and well into the future and saves taxpayers millions of dollars.

"As Mississippi's leading broadband communications provider, C Spire is proud to provide innovative, leading-edge technology and the latest fiber optic infrastructure to help power the important work of the MissiON network and enable researchers to pursue comprehensive solutions to 21st century challenges," said Hu.
Low-Cost Campus Internet
In another major change, C Spire moved commodity internet access for the 100,000 students, staff and faculty on the state's nine university campuses directly to the MissiON core and provisioned it through multiple Tier 1 upstream internet service providers. This gives consortium members low-cost access – up to 80 percent lower than current rates.
"C Spire's commitment to such vital infrastructure enables Mississippi research institutions and businesses to compete on a global scale," said Glenn McCullough, Jr., Executive Director of the Mississippi Development Authority, noting the state exported nearly $11 billion in goods and services to 176 countries last year, supporting over 180,000 direct and indirect careers in Mississippi.
Learn more about the technology upgrade and contact us at ask@cspire.com