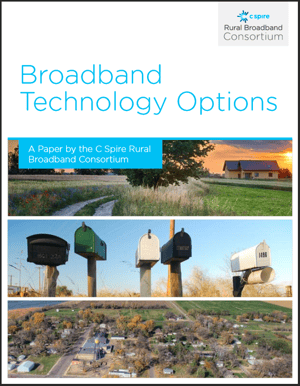 The C Spire Rural Broadband Consortium has published a new white paper, Broadband Technology Options, outlining several technology options for bringing broadband to rural communities.

These rural environments vary greatly from flat treeless farmland to small tightly-knit towns nestled in the mountains. That makes it necessary for the rural broadband providers to have multiple tools in the toolkit that can be matched to each environment. Explore these tools with us in the Broadband Technology Options white paper.

To learn about the C Spire Rural Broadband Consortium's efforts to develop business models that organizations can use to bring broadband to rural communities in Mississippi, click here.