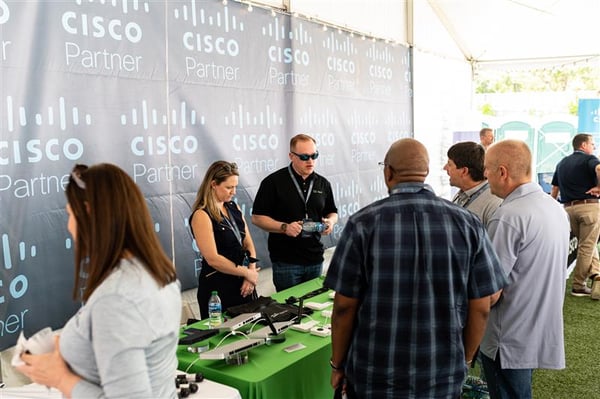 Mississippi's IT and business leaders will get a taste of the future in October when C Spire Business launches its premier technology and networking event Bytes & Bites in Jackson.
The must-attend summit brings together IT professionals, industry experts and the world's leading technology providers for an afternoon of food, drinks, giveaways, and advanced insight. Bytes & Bites is from 2 to 5 p.m. on Thursday, October 26, at Bridlewood of Madison.
Powerful partners. Smart solutions.
From Cisco to Dell to Palo Alto, you'll rub elbows with industry experts from top tech companies who will share demos and answers to today's most complex IT questions. Here are some of the key learning opportunities at Bytes and Bites:
Gain insights from Cisco Webex specialists about their robust collaboration platform. Calls, meetings, and messaging can increase business productivity - all in one place.
Learn from Cisco Meraki experts about cloud-managed solutions - including networking, security and device management - work together to simplify and enhance your network performance.
Learn about Dell's suite of data protection and data center hardware, software and services, optimizing everything from servers and storage to networking and management.
Discover how ExaGrid can enhance your business's data backup and recovery while optimizing capacity with its hyper-converged backup storage solutions.
Find out Palo Alto's innovative range of cybersecurity solutions, including firewalls, cloud and network security, and advanced threat prevention.
Discover how Rubrik delivers security wherever your data lives with data protection, backup, recovery and management across enterprise, cloud, and SaaS.
Learn the ways Veeam enhances data availability and security with modern data backup, recovery, and management for physical and cloud environments.
BYTES & BITES
Don't miss your chance to network with IT leaders and industry experts. Registration is now open.
When: October 26, 2023
Time: 2-5 p.m.
Where: Bridlewood of Madison,
3024 MS-22
Madison, Mississippi