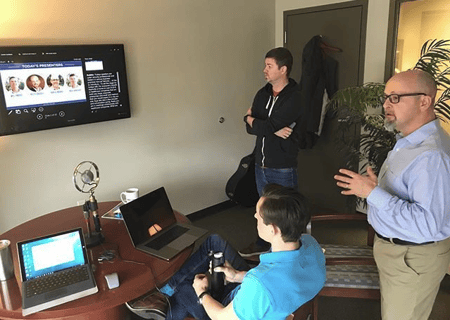 Meet our Cybersecurity Consulting Group! This team partners with organizations to help identify, quantify, and eliminate business risk as it relates to security.
"Regardless of how an organization consumes IT services, our team is focused on empowering business leaders with the ability to create a robust culture of security throughout their IT infrastructures as well as their organizations," says C Spire General Manager Don Monistere. "We can conduct risk assessments, true HIPAA risk analyses, penetration testing, security-awareness training, and password cracking services to help businesses get a clear picture of their risk and potential business impact."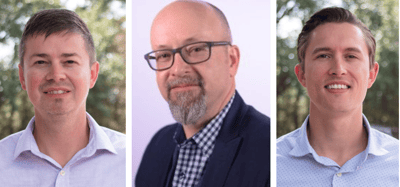 The consulting group is led by Ethical Hackers (pictured from left) Nick VanGilder, Robbie Morris, and Will Enochs. "These security powerhouses have years of experience in penetration testing and securing networks for billion-dollar organizations," says Don. "We are proud to have on our team the most capable and knowledgeable experts in the Southeast U.S. to lead this group."
When not involved in the strategic development of the practice or on client engagements, the team focuses on keeping pace with the quickly evolving and cutting-edge tactics being employed by modern hackers. The Cybersecurity Consulting Group's certifications include Certified Information Systems Security Professional (CISSP), and Certified Ethical Hacker (CEH).
"Much of our careers have been spent working with highly regulated entities," says Nick. "I've successfully performed advanced penetration testing engagements for a number of nationally recognized organizations." Nick is currently preparing for the penetration testing certification GPEN.
According to Don, C Spire is answering the industry call for emphasis on healthcare security services with healthcare veteran Robbie Morris. "We are especially excited about Robbie's experience with HIPAA-required Healthcare Security Risk Analysis and healthcare security in general," said Don. Robbie is a great fit for continuing to help our healthcare clientele be successful and meet their business goals."
Will says cybersecurity is more about a journey than a destination.
"Our group takes a consultative approach to helping companies create a culture of security," says Will. "We aim to inform businesses on where their risks lie and give them a framework on how to improve."
C Spire Business' established security portfolio includes equipment as well as security-as-a-service offerings such as managed firewall, event management, and email protection.
Contact the group at ask@cspire.com