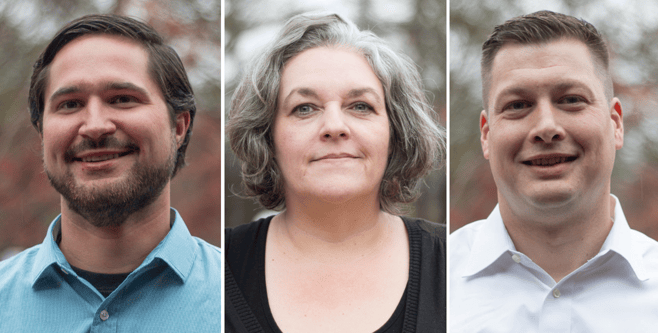 The busy hustle and bustle of the holiday season hasn't slowed us down! Take a few minutes to meet the new employees we brought in during December. And be sure to check our open positions here.
Jay Blankenship: The newest Birmingham Project Coordinator is a 2013 graduate of the University of Alabama. Since graduation, he's been a sales rep for a banking software company, and an inventory manager for an industrial parts distribution company. He enjoys outdoor activities including hunting, fishing, mountain biking, camping, and woodworking. He's even turned a couple of his hobbies into a small business making custom furniture and selling his photography.
Michelle Morgan: The Purchasing Specialist has more than 30 years of experience as an executive assistant in sales, marketing, HR, and IT environments. She's the mother to one daughter and two rescue cats. "We rescued them, and they rescued us right back!" she says. In her spare time, she likes playing Sims2, and creating interior design projects. "And since recently turning 50, I can suddenly cook, so I make food while my cats watch in anticipation," she says with a laugh.
Eric Sturtevant: TekLinks' new Technology Solutions Manager is excited to be working with businesses, helping them learn the benefits of managed cloud services. Eric is a former University of Montevallo basketball player. Professionally, he spent the last 17 years in the wireless industry before making the move to TekLinks. He is a Crossfit fanatic, and says he will play any sport of any kind.
Welcome to our team!
---
WHO IS TEKLINKS? A national leader in cloud computing, managed services, engineering services, and value-added resale. We're a team of expert techies and business professionals who are passionate about building valuable relationships and getting things done right. Simply put: We make IT work for business.