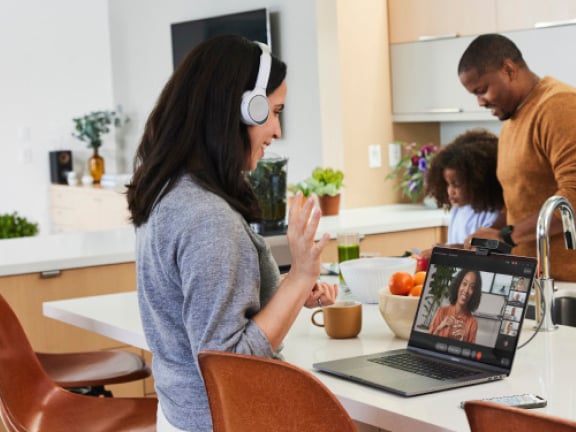 Not so long ago, employees worked under one roof. They collaborated on projects in person and when they called a client, it was from a desk phone - not a personal mobile phone that risked exposing their private information.
But not anymore. All of that changed with the Covid-19 pandemic.
In late 2020, 9 percent of professional jobs in North America were remote. According to a recent study, closer to 25 percent of professionals will be remote by the end of 2022. The need for organizations of all sizes to adopt a robust collaboration solution is quickly growing.
However, some companies are finding that these tools are not all the same. "They can help your team better work together from anywhere in the world. But sometimes they end up creating more headaches because you're having to switch back and forth between chat in one app and meetings in another and so on," said C Spire Product Development Manager John Bergoon.
When you're shopping for the right collaboration solution, Bergoon suggests looking for one that provides everything you need in one app, including these seven features:
Audio calls, videoconferencing with screen sharing, and instant messaging. These features are the foundation of any smart collaboration tool since they provide the next best options to live and in-person communication. People across multiple locations can immediately connect and still have the feeling of being together.


Private persona protection. Collaboration solutions can guard private information. For example, instead of exposing your personal cell phone number, a collaboration tool will display your business persona and number during calls and instant messages with clients, vendors, etc.


Third-party app integration. Consider the software your organization uses regularly and make sure it will integrate with your collaboration tool. For example, some collaboration tools can integrate with platforms like Salesforce and Microsoft 365.
File-sharing from any device. Gone are the days of transferring files via email, saturating inboxes with heavy files. Some collaboration solutions allow you to transfer files, distribute them and give access to them from one central location. These shared files can vary from software, books, videos, documents and more.


Collaboration channels for specific groups. These are spaces within a collaboration tool in which specific people can chat, share documents, hold whiteboard sessions, schedule meetings, and more.