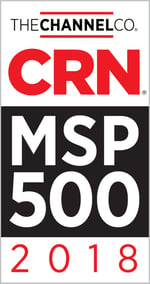 CRN has named C Spire Business to its 2018 Managed Services Provider (MSP) 500 list in the Elite 150 category. CRN is a brand of The Channel Company.
This annual list recognizes North American solution providers with cutting-edge approaches to delivering managed services. Their offerings help companies navigate the complex and ever-changing landscape of IT, improve operational efficiencies, and maximize their return on IT investments. The MSP Elite 150 category recognizes large, data center-focused MSPs with a strong mix of on-premises and off-premises services
"Many thanks, CRN! Being in the Elite 150 is evidence that our strategy resonates with our market and as well the entire industry," said C Spire General Manager Don Monistere. "As a true Hybrid Cloud Provider, establishing a strong Managed & Cloud Services portfolio has been necessary in order to grow all components of our business. Enterprise customers who have traditionally bought professional services and hardware from C Spire appreciate that we can provide solutions on premises, near premises (in our data center) and in the Public Cloud. More importantly, offering a management layer on all three platforms with our C Spire Multi-Cloud orchestration and management platform allows us to not only implement, but support these multi-cloud managed environments. This makes C Spire Business the perfect choice as an IT provider. "
"Managed services providers have become integral to the success of businesses everywhere, both large and small," said Bob Skelley, CEO of The Channel Company. "Capable MSPs enable companies to take their cloud computing to the next level, streamline spending, effectively allocate limited resources and navigate the vast field of available technologies. The companies on CRN's 2018 MSP 500 list stand out for their innovative services, excellence in adapting to customers' changing needs and demonstrated ability to help businesses get the most out of their IT investments."
Find the MSP500 list at CRN.com.