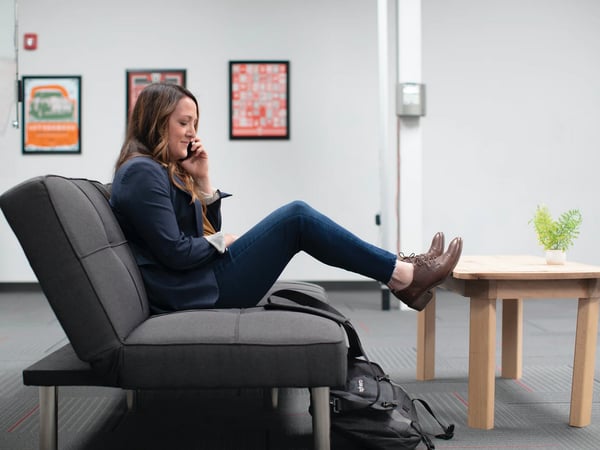 Want the power of VoIP while on the go? Unified communications, also commonly called softphones, are apps that allow you to take your VoIP phone system anywhere you want, no matter the situation – from working at home during a pandemic to touring colleges with your teen or traveling for business.
But there's a lot of confusion surrounding softphone technology. Are they real phones? What VoIP features do they include? Who needs a softphone? One thing is certain – pairing softphone technology with VoIP desk phones is a trend that has taken the business world by storm, especially with so many working remotely right now.
What is a softphone?
A softphone isn't really a phone at all but software that mimics a desk phone.
Ask the expert: "It's a VoIP phone app for your laptop, smartphone or tablet. A softphone is a phone that runs software or an application instead of plugging directly into your wall," says John Bergoon, a VoIP engineer and manager at C Spire.
Important softphone features
People on the go will want as many of their VoIP desk phone features in their portable softphone as possible. However, not all softphone technology is robust, so pay attention to feature details when shopping around. Some of the most important features include:
Audio and video calling
Caller ID
Call waiting and forwarding
Call hold and resume
Voicemail
Visual voice-mail management
Secure instant messaging
Call and chat history
Video conferencing with multiple people
Video conference room integration
Integrated phone and calendar
File sharing
Can softphones protect my personal identity?
Absolutely. Softphones protect the privacy of professionals who need the freedom to work outside the office by presenting their work identities to clients, co-workers and vendors.
Ask the expert: "Your business persona will be presented instead of your personal phone number or information," said Greg Sandifer, product manager at C Spire. "No matter if you're making a call or joining a video conference, your personal cell phone and information is safe with softphone technology."
Who needs a softphone?
Softphones are for anyone working away from their office desk.
The traveling salesperson who needs to join conference calls between visiting clients.
The accountant working from home who needs to share files with co-workers.
The office manager on vacation who needs to find someone to fill a shift for a sick employee.
The on-call IT engineer taking a late-night customer support call.
The executive taking an important remote meeting on the weekend.
The call center employee working from home during the pandemic who needs to continue to answer calls and network internally to get answers.


FREE DOWNLOAD
4 Criteria for Selecting a VoIP Provider

Hosted VoIP technology is a powerful tool, but only in the right provider's hands. Choose the wrong provider, and you could miss out on the technology's high productivity and reliability values.
In this guide, you'll learn:
Ways VoIP providers most commonly fail their clients.
Four criteria for selecting a provider who will make your success a priority.
How a provider should train your team and ensure adoption.