ChannelE2E has ranked C spire the world's No. 1 managed services provider (MSP) for the healthcare industry. Overall, C Spire Business ranked No. 2 on the Top 100 Vertical Market MSPs list for the second consecutive year.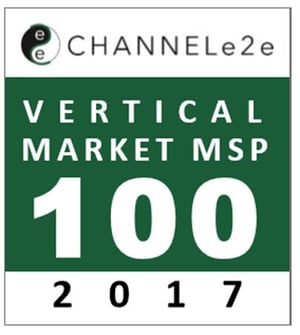 The list identifies and honors the top 100 managed services providers in healthcare, government, financial services, manufacturing and additional vertical markets.
Rankings are based on ChannelE2E's Q1 2017 readership survey.
"Being named to this list is an honor that has taken a lot of work and dedication to the healthcare market," said C Spire Business Vice President of Managed and Cloud Services Chris Hoscheid. "We're grateful for ChannelE2E recognition of our deep knowledge in this field and the special care we show our clients."
C Spire is a national leader in cloud computing, managed services, engineering services, and value-added resale. The team of expert engineers and business professionals are passionate about building valuable relationships and getting things done right. Their mission is, "We make IT work for business." C Spire is headquartered are in Ridgeland, Miss., with offices in Alabama and Tennessee including Birmingham, Knoxville, and Nashville.
"After Nines Inc. congratulates C Spire on this year's honor," said Amy Katz, CEO of After Nines Inc. "MSPs across the globe are zeroing in on vertical market opportunities. Competition is intensifying. The best-of-the-best surfaced in this year's report."
ChannelE2E, powered by After Nines Inc., tracks every stage of the IT service provider journey — from entrepreneur to exit. Through exclusive blogs, research and crowdsourced databases, our content guides VARs, MSPs, CSPs, ISVs and the broader IT channel through the five stages of business: Startup, growth, sustained performance, pivot and exit. ChannelE2E also tracks the top IT automation tools and technologies that drive partner profitability. Follow them on Twitter and Facebook.