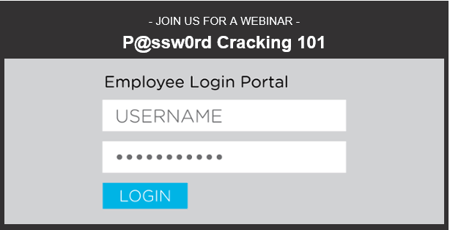 Criminal hackers aren't nearly as focused on your business' administrative accounts as they are individual employee accounts. Why? Because admin accounts rarely have direct access to highly valuable information like social security numbers, protected health information, etc.
The most sensitive data, like customer information, is typically located within an application that is only accessible from an employee workstation, virtual desktop, or terminal server. That's why criminal hackers will often gain access to an environment and then work toward acquiring the password hashes for all user accounts.
Join us on Sept. 11th as for the webinar: Password Cracking 101. C Spire's ethical hackers will provide a live demonstration, and you'll learn:
Why regular user accounts are valuable to criminals
Techniques that attackers use for cracking passwords
Tips for extracting and cracking actual password hashes
Guidance around selecting better passwords
How to get started with password cracking on your own
Here are the webinar details you need to know:
Date: Tuesday, Sept. 11
Time: 10 a.m. CST / 11 a.m. EST
Duration: 60 minutes
Registration: Click here
BONUS: The first 10 webinar participants will get a $25 Amazon gift card!