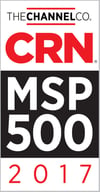 CRN has named C Spire Business to its 2017 Managed Service Provider (MSP) 500 list in the MSP Elite 150 category. The annual list recognizes North American solution providers with cutting-edge approaches to delivering managed services.

"We're a growing business with an eye toward the future of hybrid IT-solutions. We're excited to receive CRN's recognition of our strategic approach to delivering managed services," says C Spire Business General Manager Don Monistere.

Our extensive technology offerings help businesses navigate the complex and changing landscape of IT, improve operational efficiencies, and maximize their return on IT investments.

CRN's MSP 500 list features the most forward-thinking and innovative MSPs, which help companies leverage new technologies without straining their budgets or losing focus on their core business.

The list is divided into three categories: the MSP Pioneer 250, recognizing companies with business models weighted toward managed services and largely focused on the SMB market; the MSP Elite 150, recognizing large, data center-focused MSPs with a strong mix of on-premise and off-premise services; and the MSP Hosting Service Provider 100, recognizing MSPs focused primarily on off-premise, cloud-based services.

Check out the MSP 500 list here.