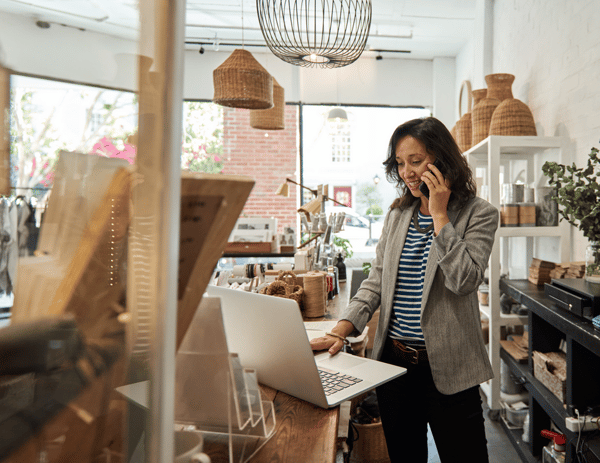 If you think your business is too small to benefit from customer insights, think again. From understanding popular visit times to business-grade cybersecurity protecting your point-of-sale (POS) system, the details collected by smart WiFi technology provides valuable understanding of day-to-day operations.
Small business WiFi solutions like Plume WorkPass or Cisco Meraki compile easy-to-use reports that can be accessed whenever via a mobile app or web portal. Here is a look at some questions these analytics can help you answer.
Know your clientele.
When you want to better understand who your customers are and what they care about, next-gen WiFi technology can provide the insight you're looking for.
Who are they? When customers connect to the WiFi, you can request that they submit their contact information, follow your brand on social media or sign-up for a loyalty program before joining. This information is gathered and stored within your smart WiFi dashboard, forming customer profiles.
How do they interact with my business? Smart WiFi solutions are developed with Artificial intelligence (AI). This technology tracks a customer's overall experience within your business. It provides frequency of visits, foot traffic, and length of stay, understanding where customers linger in a particular area can improve store layout and product placement.
How can I drive customer loyalty? Once you have insight into who your target customers are, the platforms enable you to create user profiles and develop personalized promotions. Tailored offers via text, email or social media can be used to drive customer engagement during non-peak times.
Data-driven decisions.
From better cybersecurity to employee usage, smart WiFi analytics provide next-level information to help your business run smoothly.
How can I better manage my staff?

Labor costs are always top of mind when developing employee's schedules. These dashboard equip you with your location's busiest times allowing you to efficiently organize shifts and keep operating costs under control.
How do I optimize my internet's performance? These platforms allow you to set up separate logins for your employees and guests. This feature lets you set priorities for certain devices guaranteeing optimal connectivity. The technology monitors the bandwidth allocation, sharing if a customer is hogging the internet.
How can I better secure my network? Platforms like C Spire Smart WiFi powered by Plume offer cybersecurity measures such as auto-quarantining suspicious devices, real-time threat blocking and 24/7 network monitoring. They can also provide separate WiFi access zones for your office, guests, and employees to protect your internal system from devices that have the potential to carry viruses.