Celebrating American Business Women's Day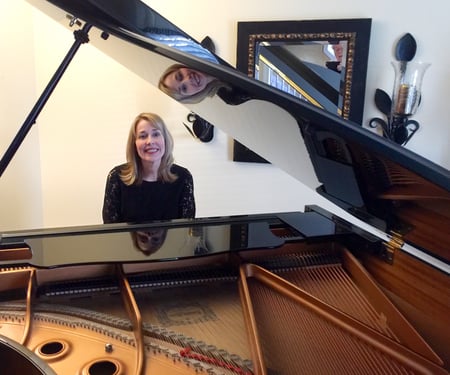 A combined 300 patients, employees, and medical providers depend on Pam Bridges' leadership. The Practice Administrator for Fort Sanders Obstetrical & Gynecological Group is responsible for making sure all aspects of the business run smoothly. That includes the Medical Practice, Human Resources, IT, Financial, and Billing.
It's not what you'd expect from a Piano Performance major.
"After graduating UT with my Bachelor's, there were not a lot of jobs with benefits for a piano major," said Pam. "And teaching children piano is not a steady income for a single woman. My dad knew a physician looking for a receptionist, and I was hired. Later I returned to school and received my MBA."
In honor of today, Sept. 22, being American Business Women's Day, we've asked Pam to share some words of wisdom with us:
What's the secret to your business success? I give to my job as much as I expect from others. If you want to motivate the people around you to work hard and accomplish goals, you have to be willing to be just as motivated in your own work.
What is your management style? HORIZONTAL! I believe that employees should know their jobs. They don't need supervisors/management hovering over them. They need solutions to problems – that is what management should be. This approach gives management more time to be forward-thinking.
Who do you admire professionally? Katie Couric. She has such energy and spunk and is not afraid to call a spade a spade. She has sailed through her career -- even in the midst of great tragedy -- with grace and dignity. An extremely intelligent lady.
What advice would you give a fellow Practice Administrator managing IT? Partner with an IT solutions company like TekLinks. Great businesswomen know what they need to outsource and what they are capable of controlling on their own. TekLinks provides a secure, cloud-based environment for Fort Sanders OBGYN. Get Pam's IT tips here.
What advice would you give to rising businesswomen? Love what you do. I love people. I love making people feel special. I have seen the bottom line of a company improve significantly just by a change of culture. If you focus on making your team and your customers a priority, all the rest will usually fall into place.
Learn more about Fort Sanders Obstetrical & Gynecological Group.
---
WHO IS TEKLINKS? A national leader in cloud computing, managed services, engineering services, and value-added resale. We're a team of expert techies and business professionals who are passionate about building valuable relationships and getting things done right. Simply put: We make IT work for business.