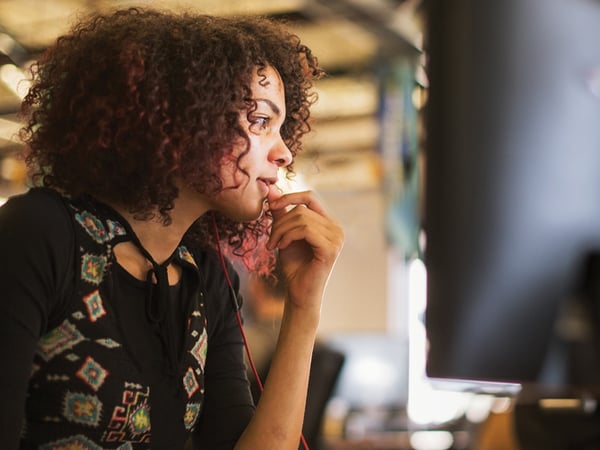 No matter the industry, Microsoft Teams breaks down department silos and securely unites remote workforces. It's the most popular and secure business collaboration tool on the market with millions of users around the globe. Teams is the great unifier of remote employees.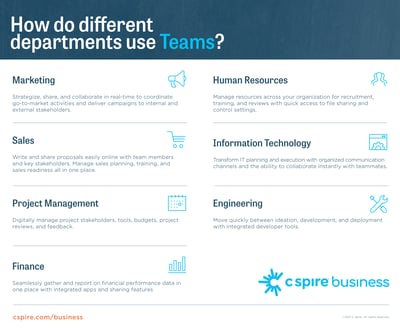 The chat-based online hub for teamwork is one of many office tools included in Office 365. Because of Teams' seamless integration with Word, Excel, PowerPoint, SharePoint, etc, each remote department gets a single and secure location for chats, virtual meetings, calls, file sharing, live file editing and much more.
Each team member can:

Access conversations, files and tools in a team workspace
Share and co-author files in the app
Leverage SharePoint, OneNote, Power BI and Planner integration
Search across people, files and chats
Keep the whole team updated with email integration
Teams for all industries

Serving clients and meeting financial goals is still the top priority for businesses, no matter the location of their employees. From healthcare to governments and financial services, Microsoft Teams enables instant and secure collaboration. Teams' proactive, enterprise-grade security simplifies IT management with intelligence built-in. Teams' can also help industries meet compliance requirements. Learn more here.
Healthcare: Integrate Teams with your electronic health records (EHR) systems, and communicate about patient care in real time within Teams' secure platform.
Financial services: Banks and insurance agencies across the world rely on Teams as a single, secure hub for collaboration across front, mid and back offices.
Education: Manage remote learning by building secure virtual classrooms. Connecting and brainstorming with fellow educators has never been easier.
Government: Enhance crisis response, manage communications and be more productive as you use Teams to better serve your citizens.
Are you ready for Microsoft Office 365?
READ NEXT: Learn what it's like to be Kelly, a remote project manager using Office 365 to meet deadlines. >>>