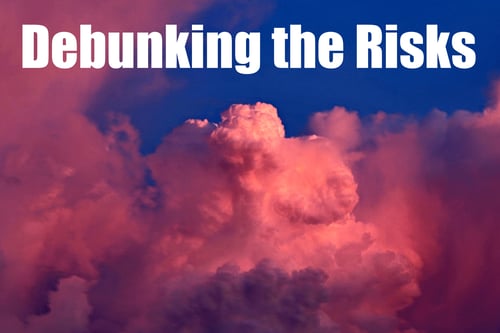 Ninety percent of Fortune 500 businesses run on the Microsoft Cloud. Yet research shows that business and IT professionals are still leery of moving their infrastructure to Public Cloud. "There's never been a more versatile, secure, and highly visible Cloud option on the market," said Cloud Solutions Engineer Jordan Helton. "Unfortunately, the journey to Public Cloud has been difficult for some because they didn't have the right partner helping them through the process. And others are intimidated by Public Cloud giants like Amazon Web Services (AWS) and Microsoft Azure."
As global IT leaders with more than 18 years of cloud experience, C Spire Business is convinced that Public Cloud is a top option for most IT infrastructures. To prove it, Jordan offered these points that debunk many of the supposed risks associated with Public Cloud:
The speed/performance won't work as well in the Public Cloud as it does on my premise. In reality, most customers find their data runs more efficiently because there is flexibility to optimize resources in real-time if performance slows and also decrease resources when they aren't needed. Public Clouds like Microsoft Azure's global network offers near-perfect availability, high capacity, and the flexibility to respond to unpredictable demand spikes. To support the tremendous growth of Microsoft Public Cloud services and maintain consistent service level agreements, Microsoft invests in private fiber (sometimes called dark fiber), for their metro, terrestrial, and submarine paths. Learn more about how Microsoft builds its fast and reliable global network here.
There will be very little control or visibility into my network infrastructure. The right partner will ensure you have complete visibility and access to your Public Cloud portal. If you don't have that now, it's time to make a change. With C Spire Business Cloud Portal you can monitor your network in real-time and make moves, adds and changes as you see fit across the public cloud environment, C Spire cloud environment, and any on premises cloud resources you choose to manage through our portal. Need to move over another workload? No problem. Want to add space? We can do that, too.
My data won't be secure. We can't express enough how inaccurate this mindset is in relation to Public Cloud – especially Microsoft's. Not only is the company the most compliant cloud in the world, Microsoft spends over a billion dollars annually in cybersecurity and protecting their systems. Plus, you can choose an added layer of security with our dedicated Express Route to Azure through C Spire. Click here to hear Azure Government CISO Matthew Rathbun and Relativity CSO Amanda Fennell explain how Microsoft fends off 7 trillion cyber events per day. It's also important to work with an IT partner that has certified Azure engineers. C Spire Business engineers hold a variety of certifications on Azure, including MCSE: Cloud & Infrastructure and MCSD: Azure Solutions Architect. Learn more: Download the Azure Privacy Overview white paper.
I won't be able to get my data out of the cloud if I need it, or it will cost a fortune to do so. A strong IT partner will allow you the freedom to move your data as you see fit to meet your business requirements. C Spire Business' service not only offers that freedom, but we even provide it to you in any format you choose. While there are some engineering fees, the expense is not what you might imagine.
The costs are unpredictable. The pay-as-you-go model of Public Cloud can be very cost efficient. C Spire can help you streamline your consumption to get exactly what you need, without any fluff. Public Cloud allows the ability to set a fixed monthly budget or a scaled budget to give you the flexibility to adjust as your business grows or volume increases. Through the C Spire cloud portal, you can make these changes in real-time based on your needs.