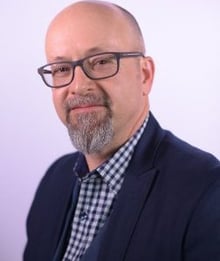 Robbie Morris understands the direction and trends of the healthcare industry. After all, he's spent the last 20 years delivering advanced healthcare IT solutions to both ambulatory care practices and Fortune 500 companies as an engineer and security consultant.
TekLinks' leadership recently added him to our security team as Vice President of Healthcare and Security Solutions. Robbie has a high level of experience in risk and compliance management, infrastructure network security, EMR installation and support, Biomedical devices and clinical application development.
"Our company is answering the industry call for emphasis on healthcare security services by hiring healthcare veteran Robbie Morris," said TekLinks President Don Monistere. "We are especially excited about his experience with HIPAA-required Healthcare Security Risk Analysis and healthcare security in general. Robbie is a great fit for continuing to help our healthcare clientele be successful and meet their business goals," said Don.
TekLinks is ranked the No. 1 healthcare IT provider in the world. We have invested 15 years in empowering healthcare professionals with smart solutions for system performance, HIPAA compliance, and accountability for IT spending. Our highly skilled and experienced team manages clinical systems that collectively see more than 1 million patients per year. And because we host the leading Practice Management Systems and Electronic Medical Records Systems, we know how to successfully work with vendors to get the best outcomes.
Highlights from Robbie's career include:
Telehealth, Chronic Disease Remote Patient (CDRP) monitoring solution architect
Serial start up entrepreneur in managed security service companies that generated revenues of $25,000,000
EMR and clinical application interoperability solution specialist
Manager for the Office of National Coordinators - TN Regional Extension Center that serviced hospitals and thousands of providers across Tennessee
Contact Robbie at info@TekLinks.com or learn more about our healthcare practice here.