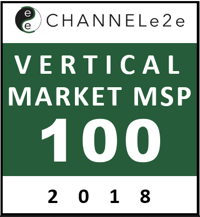 ChannelE2E has announced their top 100 managed services providers (MSP), ranking C Spire Business (formerly TekLinks) No. 1 in companies based in North America for the healthcare industry, and No. 2 in the world.
The ChannelE2E list recognized globally the top 100 managed services providers in healthcare, government, financial services, manufacturing, and additional vertical markets. Overall, C Spire ranked No. 3 on the Top 100 Vertical Market MSPs list.
"We're thrilled to be recognized in 2018 as a world-leading MSP in the healthcare industry," said C Spire General Manager Don Monistere. "Our team of IT experts have worked for many years to develop a deep knowledge in the healthcare industry. Thanks to ChannelE2E for acknowledging that effort."
TekLinks is a national leader in cloud computing, managed services, engineering services, and value-added resale. "With more than 300 employees, we are engineers and business professionals who are passionate about building valuable relationships and getting things done right," said Monistere. C Spire is headquartered in Ridgeland, Miss., with offices throughout the Southeast U.S.
ChannelE2E, powered by After Nines Inc., tracks every stage of the IT service provider journey — from entrepreneur to exit. Through blogs, research and crowdsourced databases, their content guides VARs, MSPs, CSPs, ISVs and the broader IT channel through the five stages of business: startup, growth, sustained performance, pivot and exit. ChannelE2E also tracks the top IT automation tools and technologies that drive partner profitability. Follow them on Twitter and Facebook.
Read the complete list here.