A few years ago, an internet-based phone system sounded like the right solution for companies wanting feature-rich telecommunications. But as many soon discovered, VoIP can be a letdown. To be more precise, VoIP providers who don't deliver on their promises are a letdown. We talked with Risher Robertson, an IT expert with over 10 years of experience, to better understand the problems businesses with bad VoIP providers face.
Here's what he had to say:
Partnership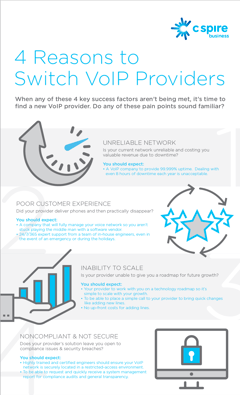 The biggest complaint from business leaders who are looking to switch VoIP companies is that their provider doesn't care about their experience after the initial sale. "I hear regularly from new clients that they couldn't get in touch with their old VoIP providers when they needed something simple like phone calls transferred from their office lines to cell phones," says Risher.
What you should expect: As a business leader, you should expect the relationship with your VoIP provider to be a partnership, aiming to bring your business success. That starts with a customized VoIP solution that is designed for your business goals, and then followed up with personalized training of your employees on VoIP features as well as 24/7/365 support.
Provider vs. reseller
Did you know that many VoIP providers are really just resellers of VoIP software? These "providers" say they have a complete VoIP solution but then they sell your company phones paired with a third-party's VoIP software. That's a problem for many reasons, but primarily because you (the customer) are left managing the VoIP software.
What you should expect: "When you need to make a change in call flow or experience a VoIP outage, you are responsible for calling and working through the problem with the third-party software company," says Risher. "Many business leaders may not realize it – mostly because VoIP resellers don't tell them - but what they're really looking for is a hosted VoIP provider that fully manages their voice network and software. That means no more dealing with third-party software company."
Expertise matters
Leaders of growing businesses are often tempted to partner with smaller VoIP providers because their cost can be lower and they claim a more personal, one-on-one relationship. Unfortunately, though, some smaller companies lack expertise and the ability to customize a VoIP solution to fit your business' needs.
What you should expect: "A hosted VoIP provider should have dozens of in-house, highly trained and experienced engineers who can quickly problem-solve and create customized solution for your specific business' needs," says Risher. "When a one- or two-man team needs to develop a solution or solve a problem, they are limited to their combined knowledge." Smaller or low-cost providers are also often unable to provide a scalable solution as the business grows.
Find the right provider
When it's clear that a VoIP provider isn't delivering on your expectations and meeting your business needs, it's time to look for a better VoIP partner. We have two resources to help you do that:
4 Criteria for Choosing a VoIP Provider. This guide explains what you can expect from the right VoIP provider – from a customized VoIP solution, personal training of your employees, to personalized communication strategies in case of emergencies.


Internet & phone bundles + real support

C Spire Business is an industry leader in customer support for internet, VoIP phones and managed services. We have a wide range of internet and VoIP phone options available in Tennessee, Mississippi and Alabama, plus the customer support to back it up.