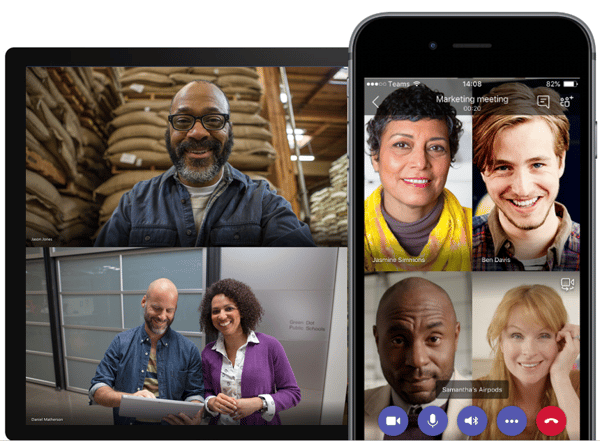 Using Microsoft Office tools like Word, Excel, PowerPoint and Teams means paying hundreds of dollars per employee license, right? No, not anymore. Millions of people around the world are using Office 365 with Teams and paying less than you may think.
This monthly subscription service embraces the convenience of 1TB of cloud storage across multiple devices. That means a user can access the full suite of Microsoft tools from anywhere in the world and from any device. It will also always be up to date and secure with Microsoft's most current feature upgrades and security patches.
Office 2019 vs Office 365
The cost of one Office 2019 license is so expensive that it would take 4 years of paying a Office 365 monthly subscription fee to equal it, and it wouldn't include half of Office 365's tools and benefits. Let's compare the two:
Office 2019: One purchase of Office 2019 is $250. It comes with 1 desktop version of Office for one computer and limited support. It does not include file storage and sharing, email and calendaring, or Teams, the world's most secure and powerful collaboration tool for working remotely.
Included with one Office 2019 license:
Desktop versions of Office applications on 1 PC or Mac.
Support: 60 days from Microsoft.

Office 365 with Teams: You pay $5 per month for the app version of Office. The subscription includes regular feature upgrades, 24/7 support, access on multiple devices per subscription, 1TB file storage and much more. Office 365 also addresses one of the greatest concerns many businesses are facing right now: breaking down silos within their remote teams. With Outlook and Teams, co-workers can edit the same file in real time, hold virtual meetings with clients, share calendars and much more.
Included with one Office 365 + Teams subscription:
App version of Office on a computer and multiple devices.
Web versions of Office applications including Word, Excel, PowerPoint, OneNote and Outlook. Real-time coauthoring so multiple users can work in the same document, simultaneously.
Mobile versions of Office applications: Fully installed and always up-to-date versions of Word, Excel, PowerPoint, OneNote, etc.
File storage and sharing: Work on a file and save it directly to OneDrive or SharePoint; your changes are updated across your synched devices. Share files with external contacts by providing access or guest links.
Security and compliance: Meets key international, regional and industry-specific standards and terms, with more than 1,000 security and privacy controls.
Support: C Spire 24/7 dedicated support.
Email and calendaring: Email hosting with 50 GB mailbox. Business-class email on phones, tablets, desktops and the web with Exchange.
Teamwork and communication tools: Host online meetings and video calls for up to 250 people with Microsoft Teams. Bring together all your team's chats, meetings, files and apps so you can easily connect and collaborate from one place with Microsoft Teams.
Tools to build and manage your business: Plan schedules and daily tasks with Microsoft Teams. Make it easier for your customers to schedule and manage appointments with Microsoft Bookings.
Are you ready for Microsoft Office 365?