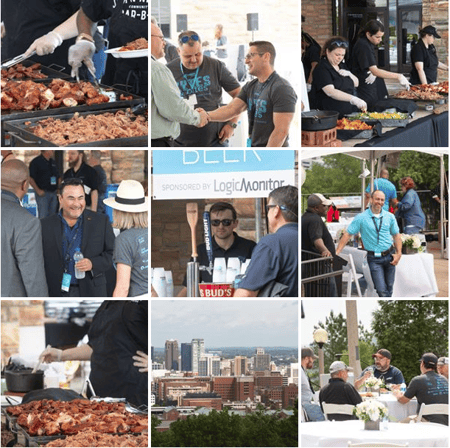 It was a year of firsts at Bytes & Bites 2019. We're sending a huge thank you to the hundreds of business and IT professionals who packed our new location at the beautiful Vulcan Park and heard our first internationally known keynote speaker, former White House CIO Theresa Payton on April 18.
The annual technology summit served 189 pounds of Jim N Nicks BBQ and 1,500 cheese biscuits. And it's no surprise that the LogicMonitor- sponsored beer and gourmet ice pops from Steel City Pops were a huge crowd-pleaser. Afterward, the remaining food was delivered to local police and fire stations.
[View the Bytes & Bites 2019 Photo Gallery]
"Theresa Payton delivered a powerful message about cybersecurity and offered great real-life tips on how to become more secure," said Haley Montgomery, C Spire Senior Business Manager. "It was also fascinating to hear about her time in the White House, and how we can use some of the same security measures in our own businesses and personal lives."
Guests also learned cybersecurity tips from a Security Panel featuring our own General Manager Don Monistere as moderator for the session on "Staying Ahead of the Cybersecurity Curve." Don was joined by Dean Blakeslee of Cisco and Kevin McDonough from DellEMC. "Understanding and Navigating the Constant Change in Collaboration Solutions" session gave businesses insight to the importance of a true collaboration solution and steps they can take to create and implement it. This panel was moderated by C Spire Product Manager Greg Sandifer, who was joined by Greg Miles from Cisco and Darren Knapp from Poly.
We received spectacular support for Bytes & Bytes this year, and we want to thank our generous sponsors. They are Title Sponsor: Cisco; Platinum Sponsors: Microsoft, DellEMC, PolyCom; Gold Sponsor: VMware, Veeam; Silver Sponsors: Varonis, Trend Micro, Zoom, Pure, Palo Alto, Zerto, Gigamon; Beer Sponsor: LogicMonitor; Dessert Sponsor: Vertiv.
We also greatly appreciate the Birmingham businesses that helped us make this event awesome! Thanks to Pre Events, Jim N Nicks, Steel City Pops, Buffalo Rock, B&B Bartending, Vulcan, Apex Shuttle Service.
Check out our Facebook photo gallery for a complete look at the day's eats, networking, and talks with our expert panelists.
Thanks to everyone who attended. See y'all next year!