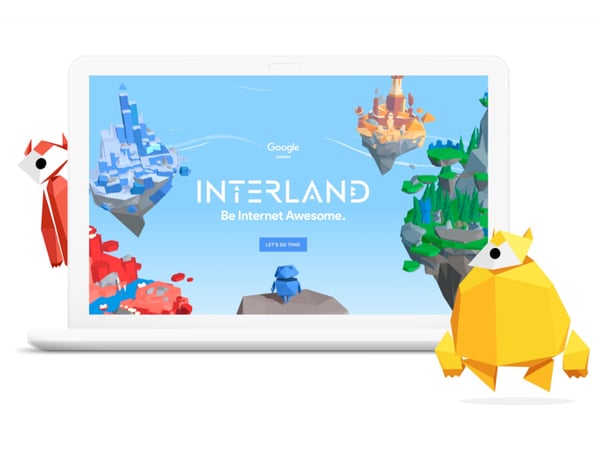 As children get older and engage more with the internet, parents are seeing the need to prepare their children to make informed decisions. That's why Google created an interactive online game called Interland that allows kids to play while learning about internet safety at the same time. This game is designed for children ages 8 to 12.
Common Sense Media, a website that provides media reviews for parents, shows multiple teachers have given the game 4 stars. One teacher's review had this to say:
Great tool for learning internet safety
I loved it for teaching internet safety. In Reality River, it taught how people phish for your information. Mindful Mountain taught to be careful how much information you share. Great Program! Read more.
The game encourages kids to "Be Internet Awesome" and learn these online safety tips while playing:
Smart – Share with Care
Thoughtfully consider what you share and with whom
Understand the consequences that come along with sharing
Keep extra sensitive information to yourself
Alert – Don't Fall for Fake
Know how to tell the difference between what's real and what's fake
Understand phishing and how to report it
Spot the signs of a potential scam
Strong – Secure Your Secrets
Take responsibility for protecting important information
Craft a unique and memorable password
Create a strong password by combining characters, numbers and symbols
Kind – It's Cool to Be Kind
Use the amplifying power of the internet to spread positivity
Block mean-spirited or inappropriate behavior
Speak up against bullying and report it every time
Brave – When in Doubt, Talk It Out
Speak up when you notice inappropriate behavior
Stand up when you see something you are not comfortable with
Report when you witness people being treated poorly online
For more info about Google's Interland, click here. And get the latest info on C Spire's Home TV and Internet options here.