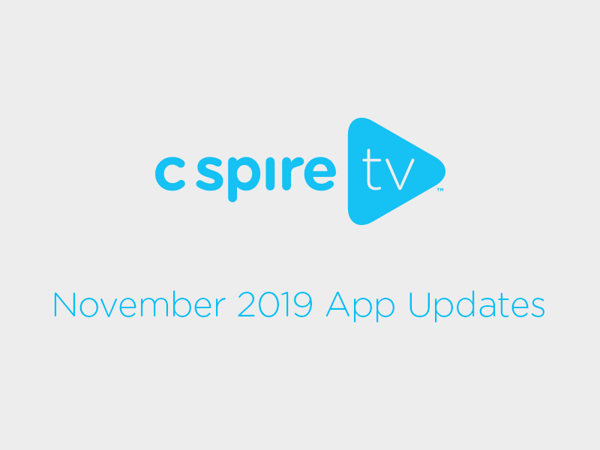 Thinking about adding the new Amazon Fire TV Cube to your list for Santa? With the latest update to the C Spire TV app, we have you covered. C Spire TV version 1.20 also delivers several highly requested features, device support and improved stability. Here's a quick look.
Amazon Fire TV Cube (Gen 2)
Just in time for holiday shoppers, the C Spire TV app now supports the new Amazon Fire TV Cube (Gen 2) device. With a souped-up processor that supports 4K HDR10+, Dolby Atmos and Dolby Vision content, the new Fire TV Cube allows you to control compatible TVs, soundbars and A/V receivers. A new visual Alexa assistant can display lyrics to songs and even tell you who's on screen during a movie.
Scrolling guide now loops
We've updated the channel and program Guide so you can quickly access the beginning or end of the channel list through a continuous, looping scroll. From the first channel at the top of the Guide, moving "up" will immediately place you at the last channel, and vice versa if at the last channel and moving "down."
Updated content ratings and HD badges
For programs that have multiple playable or recordable options, we've added the parental rating and "HD" badge to the user interface so you can quickly select the best option available. Now when you change the channel or bring up the info screen, you will see the content rating along with an HD badge.
Google Smart Lock support
C Spire TV viewers can now use Google Smart Lock to keep track of all your passwords, safeguarding usernames and passwords in Chrome and Android TV, as well as Android mobile and tablet apps. Smart Lock enables you to automatically sign in using the credentials they opted into saving. You can manage saved credentials here.
New OS Version Support
C Spire TV has been tested and now is officially supported on the Android Q OS and on iOS 13, iPad OS 13 and TVOS 13.
What else changed?
We fixed a host of bugs in C Spire TV 1.20, covering stability and performance in different platforms. Learn about all the updates here in the C Spire TV 1.20 Release Notes from our support team.
Check availability
C Spire TV is available from the App Store and Google Play. Learn more and see if C Spire TV is available in your neighborhood.
Rob Rubinoff is the Product Manager for C Spire Home.