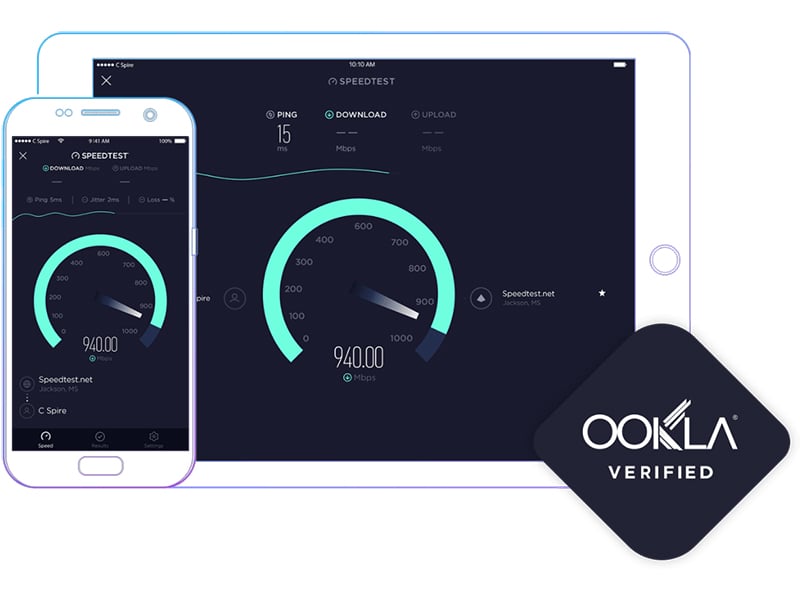 One year ago, the internet-speed experts at Ookla, the global leader in internet testing and analysis, confirmed C Spire Fiber as the fastest home internet in Mississippi. Twelve months later, we're happy to say we're still the fastest, and we don't plan to stop.
An analysis by Ookla determined that C Spire Fiber delivered the fastest average internet download and upload speeds in Mississippi over all other providers, including AT&T and Comcast Xfinity. To determine speed performance Ookla analyzed consumer-initiated tests taken using Speedtest on a fixed network.
Ashley Phillips, general manager of C Spire Fiber, says Gigabit home internet access is a game changer. "Fiber's symmetric speeds—for example, up to 940 Mbps upstream and downstream—are particularly important for interactive learning, remote work and telehealth applications," he says. As a comparison, C Spire Fiber has 10 times faster uploads than Xfinity and 22 times faster uploads than AT&T in the state.
How Ookla ran the test
To determine the speed performance for fixed networks, Ookla assesses the best network speeds attained across a given network. Access to ISP service happens over wired and WiFi connections, and as a result, Ookla considers tests on various Speedtest applications that connect to a fixed network, including tests on mobile phones over a WiFi connection. Each top carrier accounted for at least 3 percent of the sample size in Mississippi.
See if Mississippi's fastest internet is available in your neighborhood.