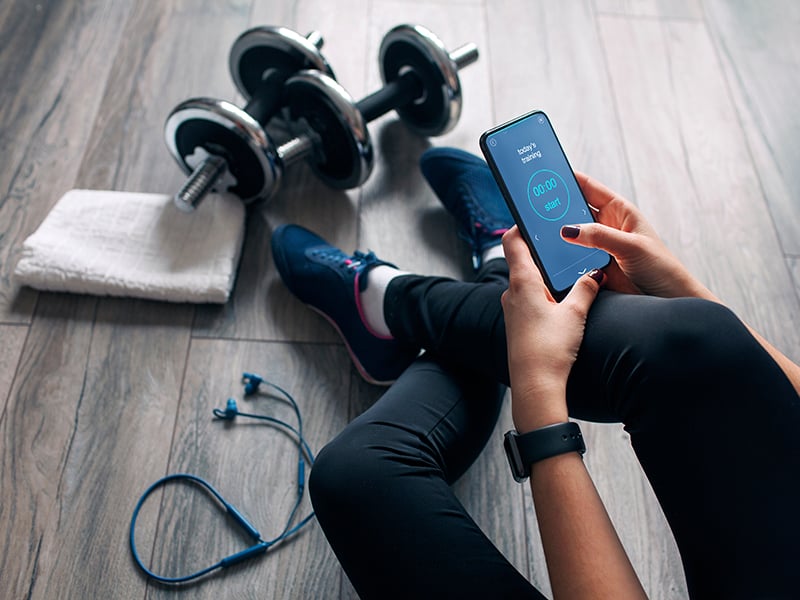 When the tools for getting fit are right there on your wrist, excuses for not getting daily exercise don't really hold up. The iOS and Android app stores are loaded with apps to help you achieve your goals, but scrolling through all the options can get tiresome when all you want is to hit the ground running. Fortunately, we've already done the heavy lifting. Here are five great tools for getting—and staying—in shape.

Strava
Celebrate the wins on Strava, an app and social network made for athletes. Strava not only tracks and analyzes your stats; it also helps you connect with exercise buddies. When you record your activity, it goes to your Strava feed so your friends can see your progress and share their own performance and workouts. There's an extensive map and route resource, and a beacon feature to share your location with your trusted family or friends in case you go off course.
Cost: Free with in-app purchases
Download: iOs, Android

Asics Runkeeper
Like having a real-life coach on your wrist, the Asics Runkeeper pushes you to set goals and then helps you train toward them. Along the way, you can keep track of insights like your average pace of running over time. Once you're up to speed, sign up for virtual race and see your efforts pay off.
Cost: Free with in-app purchases
Download: iOS, Android

Nike Training Club app
The Nike Training Workout app goes beyond many workout programs by providing tips on nutrition, healthy recipes, and recovery and mindset tips to support your fitness journey. Access live and on-demand video content on fitness, health and wellness, follow HIIT (High-Intensity Internal Training) and yoga workouts, or tap into a remote worldwide trainer network.
Cost: Free with in-app purchases
Download: iOS, Android

Map My Run
Track and map your run and discover new routes with the Map My Run app—it even syncs to Under Armour shoes to gather data to bolster data charts that help you keep track of your distance, duration, pace, calories burned and more.
Cost: Free with in-app purchases
Download: iOs, Android

Couch to 5K
As its name suggests, the goal here is to strengthen your regimen from zero activity to completing a 5K race. This app eases users into exercise with 30-minute workouts that begin with walking and gradually shift to more running.